Art Deco Jewellery
Posted by Antiques.co.uk on 13/05/2020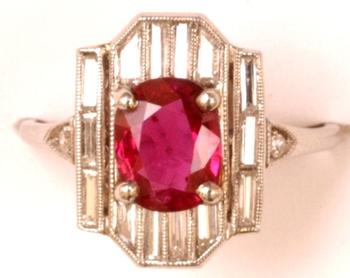 Art Deco had a massive impact during the twenties and thirties and it wasn't just furniture that came under its influence. Art Deco would have an impact on architecture, timepieces, fashion, textiles and china as well as furniture. Its greatest influence was during the twenties where it took its name from the Paris World Trade Fair in 1925. It took its influences from Cubism, Modernism and Futurism.
For most things including jewellery, influences would be mostly geometric and all manner of stones were used for the finer pieces, with costume pieces using less ornate stones. Stones used would range from emeralds, sapphires, rubies and diamonds. As people travelled more during this period they were exposed to more culture influences, and this in turn had an impact on Art Deco jewellery design.
There was an emphasis on Egypt, Greece and Rome with special interest in Tutankhamen and Pompeii. Geometric shapes took in the mystery and beauty of Egypt and ancient Greece; pre-modern art and the shapes of wild animals were popular. The sharp geometric shapes would eventually succumb to more rounded circular shapes of the thirties. By the Second World War the ostentation and luxury of the Art Deco period had come to an end as the world entered a long period of austerity.
Art Deco came back with a bang during the 1960s and it hasn't been away since, with its modern and futuristic appeal fitting in well with today's contemporary fashions. Whatever trends are dictated Art Deco pieces fits in perfectly, never looking out of place on the young or the old. Although Art Deco is reminiscent of a more decedent period, it has a sense of timelessness and never seems out of date.
On www.antiques.co.ukthere is an excellent range of Art Deco jewellery pieces varying in design and price. Firstly, we have the Art Deco Platinum and onyx cufflinks from the 1920s made from black onyx; they form a pyramidal square with rounded corners and reeded edges. We then have a deco diamond triple clip which on discovery of the engraving we see was designed as a birthday present for someone celebrating their thirtieth birthday.
In the 1940s the shape is curvier on a stunning sapphire and diamond brooch having left the geometric shapes of the 1920s behind; it's possibly American with a good helping of sapphires and diamonds. We go back to the thirties for a ruby and diamond ring with an exotic ruby imprisoned by four claws and surrounded by several serious looking bars of diamonds forming an octagonal shape in keeping with its Art Deco design. It's supported by strong platinum, its sturdy build does not allow for a possible escape.
Finally, we return to the birthplace of Art Deco in the 1920s, we have an emerald cabochon ring. The emerald itself has had quite a journey from its country of origin in Columbia all the way to India. The sharply shaped diamonds on top and the striped centre of the emerald is in keeping with Art Deco trends, while the platinum claws keep a firm grip on the lusciousness of the emerald held within.
Art Deco embraced luxury, ostentation and flamboyance. The influences of pre modern art combined with a love of history made for some exciting designs and colourful twists on old ideas. Art Deco once disappeared from view; it is unlikely to do so again, with its thoroughly modern shapes and designs Art Deco will always have a place in our lives.