oak sideboard, 19th century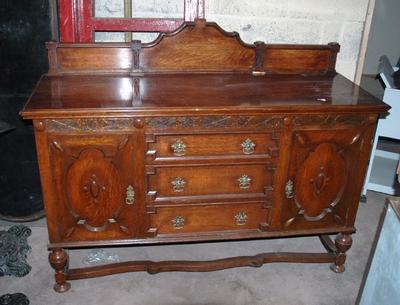 19c/19th century solid oak sideboard, 3 drawers and 2 cupboards, with raised back, brass handles, ring turned feet and carved decoration throughout.
Materials:

Oak, Brass

Width (cm):

152.4cm (60")

Height (cm):

117cm (46")

Depth (cm):

55.5cm (21.75")
World Wide trading Post Ltd
We specialize in Genuine Antique and Collectables from around the world. Having contacts worldwide, sourcing rare and unusual pieces, keep an eye out for really special items. We sell on eBay, at Auctions and at Antiques Fairs throughout the United Kingdom. We have sales reps who can deal with customers on a one to one basis. If you require any further information please call us, some one will be happy to handle your enquiry. We also have a large stock of items from Pub Paraphernalia,Reclamation, Signs, Bar Accessories, Seating, Kitchen Equipment the list goes on Over the next few weeks we will be getting our Auction House up and running, we have a huge stock of items just waiting to be listed - some of them very unique. We also can source what ever we want due to our team of antiques experts, for enquiries please e-mail request@worldwidetradingpost.com, we are also considering setting up a service where we source antiques for you, just let us know what you want. If you have any question please contact us.
Other antiques available from world wide trading post ltd