wakazashi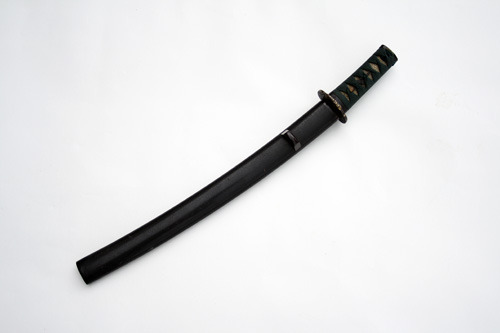 A good quality wakazashi having a heavily curved 15.5 inch blade with a broad billowing hamon and a hi on each side of the blade, this is probably made from the end of an older sword, it has a two piece gold and copper habaki with shakado nanako tsuba, with garden flower decoration repeated on the fuchi kashira and menuki, contained in its original lacquer saya with kodzuka.
Garth Vincent Antique Arms & Armour
Garth Vincent Antique Arms & Armour. Suppliers of fine antique flintlock pistols, long guns, percussion pistols, military swords, Japanese swords, and a wide range of antique arms and armour. We have an incredible amount of stock, with items dating from the English Civil War right up to World War II. Besides antique firearms, Garth Vincent also offers antique arms & armour, antique swords, guns, helmets and cannon. If you are searching for that elusive flintlock pistol, simply follow the link to visit our Antique Arms & Armour online store where you'll be able to purchase your selected products online.
Contact details
Garth Vincent Antique Arms & Armour
The Old Manor House
Allington
The Old Manor House, Allington
Nr. Grantham
Lincolnshire
NG32 2DH
UNITED KINGDOM
T:
01400 21358
E:
info@guns.uk.com
W:
www.guns.uk.com
Other antiques available from garth vincent antique arms & armour