We are here to help the industry
Posted by Iain Brunt on 19/04/2020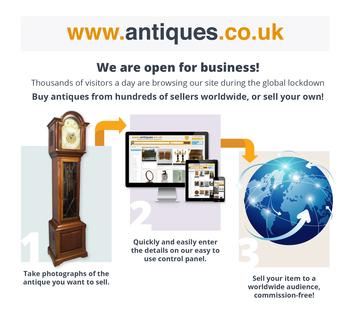 World's-leading antique online platform www.antiques.co.uk enhances routes for sales during COVID lock-down – now open to all art galleries, antique shops, collectors and private clients worldwide
As antiques fairs and shops and galleries temporarily close their doors as a result of the COVID-19 lockdown, www.antiques.co.ukthe world's leading online antiques platform has launched a pay-as-you-go option where trade and private clients can list the widest array of items to buy and sell, whilst the site is now open to art galleries from around the world.
Traditionally a pay-for-membership site, www.antiques.co.uk founder Iain Brunt has now opened-up the platform enabling antique dealers, galleries, collectors and private buyers to list individual items for £3.75 with no other hidden fees or charges and the item remains live until sold.
There is no time restriction or limit to the number of items you can list.
According to the Art Basel and UBS Global Art Market Report of 2020, global sales of art and antiques reached $64.1 billion in 2019. With economic predictions of the biggest financial crash in 100 years (Nomura), the art and antiques market must adopt digital platforms such as www.antiques.co.uk, or perish.
To support customers engaging on the platform, www.antiques.co.uk also has an online valuation service built-in, allowing individual sellers to get valuations within a few days so knowing the value of their items before listing them on the site.
The valuations pages are easy to use and intuitive.
Valuations can be as swift as 48 hours from as little as £10.
Traditional website sales platforms suffer from fakes and fraud; www.antiques.co.uk is designed to protect the buyer and help the legitimate seller.
About www.antiques.co.uk
www.antiques.co.uk was launched in 1996 and has grown to be the number one antiques platform, with over 500,000 unique viewers each year and 50,000 items listed daily.
The site has 1300 sellers many of whom are experts in their field.
Many auction houses and sellers are moving online in a bid to continue to serve the market during the COVID-19 crisis, www.antiques.co.uk has been ahead of the curve in carving out its niche as the world leader, in an industry that has been traditionally very conservative to adopt to e-business.
www.antiques.co.uk offers the trade access to a huge number of potential buyers so able to maximise the impact of their own web sales.
A newsletter goes out 4 times a month.
Founder of antiques.co.uk, Iain Brunt:
"Having worked in the industry for over 40 years I thought it was time that someone represented all the United Kingdom's - and the world's -experienced and specialist dealers on one website.
As we have found over the years dealers throughout the world have been ignored in favour of contemporary art and design, and I hope with the development of www.antiques.co.uk that we can make aware to the rest of the world that we are in existence and are very knowledgeable.
With the present COVID-19 pandemic, the antiques sector faces a game-changing moment – we can either fully adopt to digitalisation and the benefits of technology, or we can continue to plough a lonely furrow which in the present and future economic climate would frankly be suicide.
At this moment I also wanted to open the site to art galleries to provide another route to market for them.
Finally, we ask all our colleagues and friends to keep safe and stay at home at this moment."
Testimonials
"Business is tough and we just have to be nimble and enterprising to get out there. I've been using antiques.co.uk since 2012 and for us, it's worked extremely well, yielding some good sales and new clients with whom we've gone on to sell to repeatedly."
Quote and image from Breedon Antiques, Warwickshire.
www.antiques.co.uk/seller-items.cfm?seller=2409
"I sold a polo trophy through antiques.co.uk. What's great about antiques.co.uk is that it put me in touch with their valuations department and I could then gauge the right price to put it on the site for. I sold it for a good price and it's gone to a good home."
Private Seller
www.antiques.co.uk/seller-items.cfm?seller=3077
"I would like to start selling my extensive collection of antique cameos on a Pay as You Go basis.
Kind regards and thank you for introducing this new initiative".
Astrid Pardew, private client