Interview with Etel Adnan
Posted by David Hornsby on 24/04/2017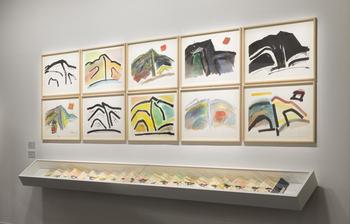 Etel Adnan has excelled in a remarkably diverse range of fields during her long life. She is a poet, known in particular for her protests against the Vietnam and Iraq wars; a novelist whose book about the Lebanese civil war, 'Sitt Marie-Rose', won the coveted France-Pays Arabes prize and is considered a classic of war literature; a journalist and essayist who has explored the nature of place and history in books such as 'Of Cities and Women', and 'Paris When It's Naked'; and a philosopher who taught for many years at Dominican College in California.Now in her early 90's, she is receiving widespread acclaim for her artistic work, and during the last year has had major exhibitions in London and Paris. In this, also, she shows mastery of a wide range of genres, producing tapestries and ceramics as well as paintings and drawings, and pioneering the development of leporellas, or folding books, based on the Japanese traditional form.
Hans Ulrich Obrist, Artistic Director of the Serpentine Gallery, has called her "one of the world's great poets and artists". She calls herself – according to the artist and publisher Simone Fattal – "an artisan of beauty and truth", maintaining that: "Every art is a window into a world that only art can access. You can't define these worlds. They are epiphanies, visions." We visited her in the flat in Paris where she now lives and still works, and talked to her about her life, her art and her long-standing connection with the great mystical metaphysician, Muhyiddin Ibn ?Arabi.
David: The last time I saw you was in 2010 at the Serpentine Gallery in London, where you were reading some of the poetry which you had written about the Iraq war.
Etel: I remember the event. It was in one of their temporary pavilions, the red one done by John Nouvel. Every year they commission a new building, and then take it down at the end of the season. This one I remember as being like a dream – it was all red and shiny with the green summer trees outside. The poem is called "To Be in a Time of War". It appears at the end of the book In the Heart of the Heart of Another Country which came out in 2005 in San Francisco, published by City Lights. The whole poem is written in the infinitive:
…To wake up, to stretch, to get out of bed, to dress, to stagger towards the window, to be ecstatic about the garden's beauty, to observe the quality of the light, to distinguish the roses from the hyacinths, to wonder if it rained in the night, to establish contact with the mountain, to notice its color, to see if the clouds are moving, to stop, to go to the kitchen, to grind some coffee, to lit the gas, to heat water, hear it boiling, to make the coffee, to put off the gas, to pour the coffee, to decide to have some milk with it, to bring out the bottle, to pour the milk in the aluminum pan, to heat it, to be careful, to pour, to mix the coffee with the milk, to feel the heat, to bring the cup to one's mouth, to drink, to drink again, to face the day's chores, to stand and go to the kitchen, to come back and put the radio on, to bring the volume up, to hear that the war against Iraq has started…
I did this because I was brought up in the Middle East, in Lebanon, but when the Iraq war began, I was living in America. When you are not a native to a country, in time you can pretty much come to feel integrated. But when it comes to a crisis somewhere back home, or near home, then you realise that you lead a double life. You can carry on with your everyday routines, but something is hurting you that is totally without interest for other people. Read more https://besharamagazine.org/arts-literature/etel-adnan-an-artisan-of-beauty-and-truth/