Impressionist results
Posted by Iain Brunt on 28/02/2019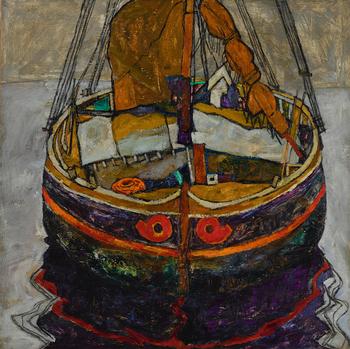 London Impressionist art week how did it go by art advisor Iain M Brunt
London hosted some major sales of impressionist art and here are comments after the sales
Sotheby's had the least this time but their big flagship work by Claude Monet Lot 6 Le Palais Duval. Although not very large this picture was expected to fetch over 20 million pounds and it did at 27 million. It's a superb example of his work and one of my special artists whom I have studied over the years.
My other choice was this small Egon Schiele lot 9 Trieste fishing boat it has a wonderful history and for me invites you into a voyage of discovery. It made well over its estimate as I expected fetching over 9 million pounds
They also had a good selection of surrealist works making a further part to their evening auction, which held up well with seem really good results so maybe this is the next 20 million pound area in the ever increasing market,
Christie's had a wider choice with a lot of works by Degas which well within their estimates. Their flagship lot (estimate on request so you need a fat wallet) Paul Signac Saint Tropez it is a stunning example of his work and did well just under 20 million.
Christies managed to include two works by Giovanni Boldini, which is great to see lots 27 and 29 and not too expensive for such an accomplished artist but the lady fetched over 1 million pounds which is encouraging for this artist so another one to really look out for. If you cant afford these take a look at the drawings as they are equally well accomplished.
My favourite though was lot 25 Felix Vallotton it was small and expensive but what a wonderful subject with the child kicking her foot out at just over 2 million pounds.
There were more works in both auction house day sales and even though with not so high-ticket prices they are easily affordable.
The secret of visiting these auctions is enjoying them as a mixed show. If you didn't manage to get what you were looking for do ask me, as there are quite a few works available on the private market at the same or even lower prices.
For further information please visit my website http://www.artadvisor.ch& www.antiques.co.uk