Glassware very collectable and also very useful
Posted by Iain Brunt on 07/04/2020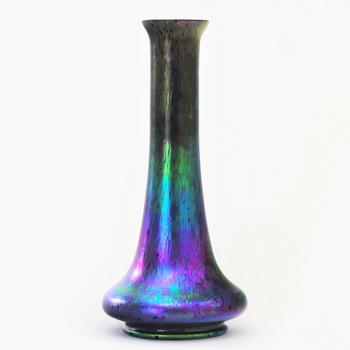 In the 20thcentury glass was in abundance with a variety of different designs. Good quality glassware had only been available to the rich during the 19thcentury, but now it was available to a much wider audience. Mass production techniques played its part with distinctive creations coming from talented glassware designers. Glassware manufacture has come from Europe and America in more recent times, but hopefully in time this will change.
Designs from the beginning of the century include Art Deco, Art Noveauand Modernism. Glass wasn't always ostentatious and just for display only, glass as also made for utilitarian purposes. Well known designers include Lalique, Loetz, Powell, the Daum brothers and Galle.
Loetz
The Loetz factory was started in 1836 in the Czech Republic. The glassworks was then sold in 1849 to Frank Gerstner and Susanne, the widow of Johann Loetz, to confuse matters even more, it was sold again to a Maximillian von Spaun, the factory would then go on to be modernised taking on new technological processes.
Their work would include different design periods such as Historicism, which included Intarsia and Octopus glass and Marmorisierte, this was marbleised glass with imitation semi-precious stones.
20thcentury Loetz – and the beginning of the end

The 20thcentury saw a real creative period with art nouveau and the Phanomen designs. Art Deco saw a collaboration with designers from Vienna with beautiful etched designs. The 2 wars created problems for the Loetz business and for a time following the First World War, Loetz made more simple creations of lower quality aimed at a mass market.
Following the great depression of the thirties, the Second World War in the forties, saw the closure of the factory.
Want some Loetz?
Seeking out, finding and collecting Loetz glass is for many a worthwhile endeavour. Their glasswork is stunning – coloured, twisted, marbleised glass with patterns and shading that really seem to defy what we think is possible to do with glass. Loetz glass is a real find, their creations are distinctive and the different periods produce different designs. The art deco period is particularly beautiful.
Powell (Powell & Sons, Whitefriars)
Powell glass making started in the 19thcentury following James Powell's purchase of the Whitefriars Glass Company off Fleet Street, London. The factory started off with quarry glass and was used as a cheaper alternative to stained glass for churches.
James Hogan
The factory's name changed to Powell & Sons, Whitefriars in the early part of the 20thcentury. James Hogan would join the firm and have a major influence on the manufacture of glass. He designed windows for cathedrals both in England and America and went on to create tableware and service ware including the British Embassies, where he created a special series of stained glass. He went to become Chief Designer, Art Director, Managing Director and finally the Chairman of the Company. An impressive rise to the top for someone that started out with the company as a 15 year old apprentice.
Baxter Glass
Geoffrey Baxter would join the firm in the 50's and would introduce a new range of textured glass vases. They went by some interesting names – Television, Banjo, and Drunken Bricklayer. They all had a beautiful textured bark effect and came in some beautiful colours including meadow green, pewter and ruby.
Closure in 1980
Sadly, the factory closed at the beginning of the 80s, high labour costs and the economic recession during the 1970s had made it impossible for them to continue and the factory was closed. Many of their most beautiful pieces are now in the Museum in London. Powell glass usually comes with a paper label, but sometimes these have been lost. Their designs, especially Baxter's, are quite distinctive, so if you do see anything of that nature, then keep your eyes peeled.
On www.antiques.co.ukyou'll find one of George Baxter's exquisite designs, the Whitefriars vase, with the distinctive textured bark effect in meadow green. It really is a beautiful piece and if you're looking for a Christmas gift, you couldn't find anything more stunning than this.
You'll also find Lalique glass with a large dish that's beautifully shaped with an elegant pattern.
Browse around www.antiques.co.ukand see what you can find, there are some beautiful glass pieces, and even if you can't find a Galle, Powell or Loetz, you may find something else that takes your fancy.