Antique Wine tables
Posted by Georgian Antiques Edinburgh on 09/02/2021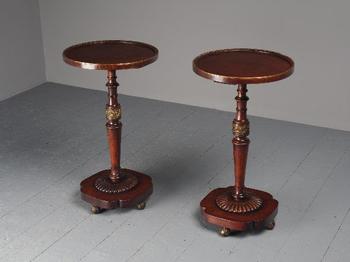 Today we want to talk to you about Wine Tables. www.antiques.co.uk have over 1,800 sellers with over 65,000 items for sale so come and join us on our fabulous website.
The earliest examples of wine tables date to the late 18th century. They were originally of a narrow, semi-circular or horseshoe shape and of dining table height, which allowed the dining guests to sit around its circumference.

Cabinetmakers even initially referred to them as the 'Gentleman's Social Table', indicating that these tables were developed for elite clients, and with a distinctive purpose.

Interestingly, the type of alcoholic drink consumed was a strong indicator of an individual's social status. The consumption of claret, wine, port and sherry was restricted to the court and wealthier citizens, whilst the poorer citizens drank beer or gin.

Perhaps unsurprisingly, the occasional table has gained its name by being a table that has no specific use or fixed location. They are instead a table that could be used in several rooms in the home.

The term can be used to describe several forms of occasional tables including: lamp tables, end tables and from the 20th century onwards, coffee tables.

Occasional tables were small, light tables which were designed to be portable. The standard form in Georgian times was of a tray top (in circular, rectangular or oval shapes) over a tripod, or pedestal base. They were made from various woods, including walnut, oak, mahogany, or amboyna.
They were often decorated with inlaid designs, carvings to the tripod base, cast brass accents, and occasionally had castors. Some examples include almost all of the above decorative features, like this Victorian kingwood occasional table.
For the upper classes in 18th century and 19th century Britain, drinking was also a highly social activity (often in gentlemen's clubs), and a wine table would elevate this practice.

Some wine tables were customized by having an ice bucket or metal bottle store integrated into the table, a revolving tray or arm for passing the bottles, or a 'network bag' beneath the table (which may have been used to store biscuits or stop glasses or bottles from falling to the floor). It is exceedingly rare to see this form of Georgian wine table.

Most of the wine tables that we see today are smaller versions of tripod occasional tables.
To see more stories from our experts and items please visit our magazine on www.antiques.co.uk.
We are grateful to Georgian Antiques of Edinburgh, a seller on our site for the abov