Antique Prints
Posted by antiques.co.uk on 14/04/2020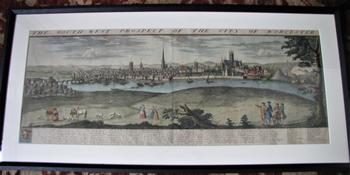 This week we are taking a look at antique prints, and focusing on prints of Victorian paintings. Prints done in this way says much for the popularity of the era and the styles used during this time. These fascinating styles and themes used in Victorian art were largely inspired by the many changes brought about by the industrial revolution. This period brought mass manufacturing techniques, great urbanisation and with it poverty, disease and hardship.

To counteract the effects of these massive changes Victorians chose to create artwork that idealised the Victorian period, almost as if they had chosen to create a world where the ugliness of the changes around them did not exist. There were many themes and styles and during this time; we saw the rise of the Pre-Raphaelite period in 1848 with themes of realism and truth in the natural world and in the second wave of this movement myth, ambiguity, chivalry and symbolism.
The upheaval of the industrial revolution inspired many paintings of natural scenery and rustic countryside settings. Aside from the more idyllic nature scenes some conveyed more realism, such as the Victorian seascape print depicting vessels in rough seas from www.antiques.co.uk, this print after the original by marine artist J.W. Carmichael is a realistic depiction of the unpredictable nature of the sea. The original painting was completed by the artist in 1867 and the copy is faithful to the original.

Another Victorian print featured on www.antiques.co.uk is a print of the Bay of Naples taken from the original watercolour by the Artist Thomas Leeson (1823-1875) although not the original it has been cleverly reproduced to look like the original using texture and wash that would normally be seen in a watercolour.

Sentimentality was also a key theme with many prints showing cherubic little children, the very representation of innocence. Death was a constant visitor during the Victorian period with a high mortality rate due in part to the industrial revolution and the still developing world of medicine. Death was highly visible in painting during this time with scenes depicting death bed scenarios and untimely deaths.

Urban tragedy was another popular subject, and women were used in many paintings to represent the ugliness of urbanisation with young beautiful women being portrayed as fallen women, perhaps from a more sophisticated family background who had fallen prey to temptation or hard times.

The Victorian period still holds us in its thrall today and there is still a healthy appetite for all things Victorian. With the many changes this period saw it's no wonder that it managed to produce so much beautiful art and literature in its time that it still captures the imagination.