the falls of foyers, loch ness scotland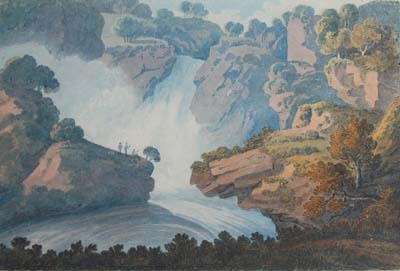 The Fall of Foyers is a spectacular 140 ft waterfall on the River Foyers, which feeds Loch Ness, in Highland, Scotland.The waterfall has "a fine cascade", having a fall of 165 feet. It is located on the lower portion of the River Foyers at grid reference NH497203. The river enters Loch Ness on the East side, North-East of Fort Augustus.This waterfall influenced Robert Addams to write a paper in 1834 about the motion aftereffect.
The flow over the falls has been much reduced since 1895 when North British Aluminium Company built an aluminium smelting plant on the shore of Loch Ness which was powered by electricity generated by the river. The plant shut in 1967 and the site is now part of a Pumped-storage hydroelectricity system. The Falls of Foyers have been famous as a beauty spot for a long time. People have been visiting the Falls since long before the Caledonian Canal was opened in 1822. Robert Burns wrote a poem about the Falls in 1787. This is an excerpt from it.
Among the heathy hills and rugged woods
The roaring Foyers pours his mossy floods,
Till full he dashes on the rocky mounds
Where through a shapeless breach his stream rebounds.?
Visitors could get to the Falls by road, by steamboat from Inverness or by rowing across from the opposite side of Loch Ness. In 1895 the British Aluminium Company planned to build a factory at Foyers which would use the water from the Falls to turn turbines and make electricity to produce aluminium. Visitors to the Falls didn?t want the Aluminium Factory to be built. They thought it would take too much water from the waterfall and spoil the famous beauty spot. It became one of the first ?environmental battles?. Letters and petitions were organised throughout the country and sent to the Secretary of State for Scotland protesting against the factory coming to Foyers and it was even discussed in parliament.The British Aluminium Factory closed in 1967 but the water from the Falls is still used today by the Hydro Electric Power Station at the loch side.
Materials:

Watercolour

Width (cm):

22.86 x 15.24 cm 9.00 x 6.00 ins
Artware Ltd
Artware Fine Art specialises in fine antique, decorative and historical portraits and topographical pictures . We cover a period from the 17th and 18th centuries through to the 19th & 20th Centuries. We have over 150 portraits in stock, which can be viewed on our web site, each historical portrait has well researched biographical information both on the sitter and the artist.
Other antiques available from artware ltd