stoborough, wareham dorset with the kings arms public house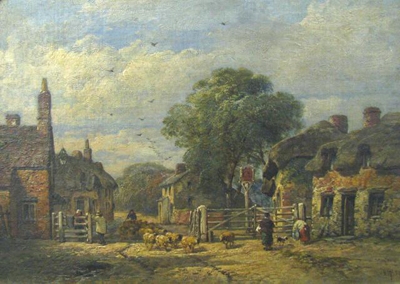 Stoborough is a village in the English county of Dorset. It is situated immediately to the south of the town of Wareham, and separated from it by the River Frome. Stoborough forms part of the civil parish of Arne, within the Purbeck local government district. The area was used as a Merchant port during Roman times. In the 18th Century Stoborough was a major smuggling route for contraband. There has been an Inn on the site for over 400 years, most famously Oliver Cromwell''s troops were billeted here during the siege of Corfe Castle in 1643.
The original name being the Horseshoe Inn until 1826 when for unknown reasons the pub was then renamed the Kings Arms. The Inn was also used as a butchers shop and the original hooks used to hang carcasses are still located below the canopy. The building is listed and the cob wall can be viewed through a glass screen opposite the bar. The abattoir and stable have been converted into the cellars.
Materials:

Oil on Canvas

Width (cm):

22.86 x 30.48 cm 9.00 x 12.00 ins
Artware Ltd
Artware Fine Art specialises in fine antique, decorative and historical portraits and topographical pictures . We cover a period from the 17th and 18th centuries through to the 19th & 20th Centuries. We have over 150 portraits in stock, which can be viewed on our web site, each historical portrait has well researched biographical information both on the sitter and the artist.
Other antiques available from artware ltd