portrait of author frederick harrison (1831-1923)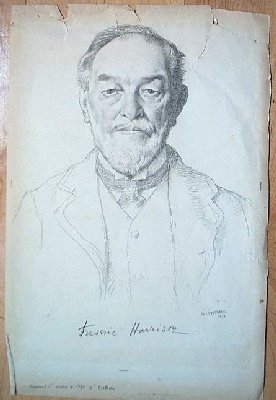 Frederick Harrison, 1831-1923, author and positivist.
Harrison was a man of masculine temper and powerful intellect. He was a student of many literatures, much-travelled, and widely read. As a writer, he was described by Lord Morley as a master of language, his style, although not wholly free from excess, being direct and plain. He delighted in controversy and championed many generous causes. The conviction that his own view was the right one lent emphasis to the exposition of his case. Harrison was Rede lecturer at Cambridge (1900), Washington lecturer at Chicago (1901), Herbert Spencer lecturer at Oxford (1905), and a vice-president of the Royal Historical Society and of the London Library. He received honorary degrees from the universities of Oxford, Cambridge, and Aberdeen, and in 1899 was elected an honorary fellow of his old college.
Materials:

Pencil Drawing

Width (cm):

15 x 10 ins. (40 x 26 cms.)
Artware Ltd
Artware Fine Art specialises in fine antique, decorative and historical portraits and topographical pictures . We cover a period from the 17th and 18th centuries through to the 19th & 20th Centuries. We have over 150 portraits in stock, which can be viewed on our web site, each historical portrait has well researched biographical information both on the sitter and the artist.
Other antiques available from artware ltd