ore church , east sussex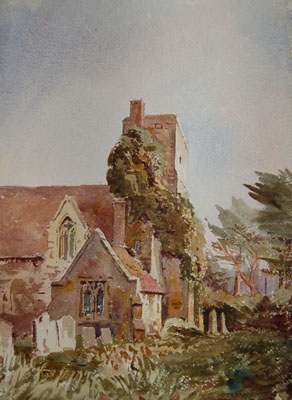 inscribed and dated on the reverse " Ore Sept 4 1868 "
Ore, a former village, is a suburb and Local Government Ward of the urban area of the town of Hastings in East Sussex. It is located to the north-east of the town on the main road to Rye (the coastal A259 road). Its name may have originated from the Old English word for "stream-bank". It is the largest suburb of Hastings. The parish church in the village centre is Christ Church, and the village also features a Seventh-day Adventist Church, a Salvation Army unit and a Methodist church. Whilst commonly known as "Clifton Road Methodist", this church is actually named after St Helen. Ore also contains a small shopping centre. Hillcrest school is in the nearby Red Lake district of Ore. Ore Valley lies to the west of Ore Village, and is the site of Ore railway station and the former Broomgrove power station. It is also the site of a proposed major redevelopment and housing project. In the part of Ore known as St Helens stands a second Anglican church dedicated to St Helen. The church was built in 1868, and its predecessor, an ancient church dating from the reign of Edward III, now stands in ruins nearby. Hastings Cemetery is also located in the St Helens area of Ore.
Materials:

Pencil and Watercolour

Width (cm):

39.00 x 28.00 cm 15.53 x 11.01 ins
Artware Ltd
Artware Fine Art specialises in fine antique, decorative and historical portraits and topographical pictures . We cover a period from the 17th and 18th centuries through to the 19th & 20th Centuries. We have over 150 portraits in stock, which can be viewed on our web site, each historical portrait has well researched biographical information both on the sitter and the artist.
Other antiques available from artware ltd