extremely rare viking silver penannular brooch 012765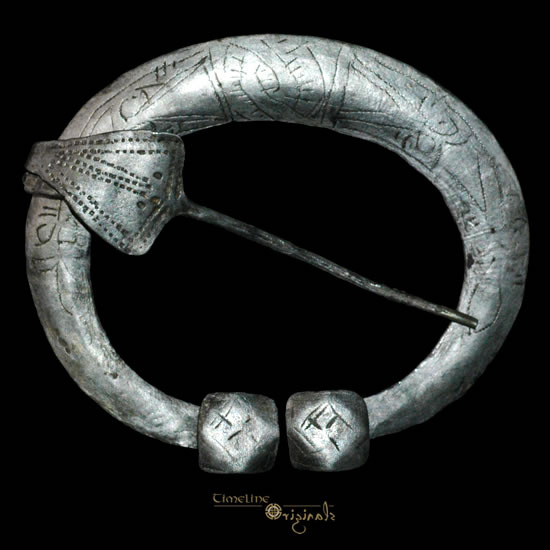 EXTREMELY RARE
VIKING 'LATE RINGERIKE STYLE'
SILVER PENANNULAR BROOCH
Silver, 12.49 grams; 71.02 mm. 10th-11th century AD. A beautiful penannular brooch with polyhedral terminals detailed with incised decoration featuring a lozenge with an internal cross. The band is decorated with incised linear ornamentation in the 10th-11th century Ringerike Style. The design starts in the upper centre with a series of interlocked D-shaped sections, extending on both sides to elongated lobes with central projections; this design is repeated ending just above the terminals. This motif is a development of the design of two opposed beasts with their heads hanging down at each side and bodies looping and returning to the base. (This motif can be seen for example on mount 11, p.29 of Williams, D. Late Saxon Stirrup-Strap Mounts – A Classification and catalogue, CBA Research Report 111, York, 1997; also ibid.fig. 350 on p. 9 shows the end transformation of this design.) The pin is looped around the band and has a wide sub-triangular plate detailed with a border of punched roundels in two rows, and three median lines of punched dots; the plate tapers sharply and forms a thin round-section pin. Reference: Härdh, B. Silver in the Viking Age: A Regional-Economic Study, Stockholm, 1996. fig. 25, p.115. Very fine condition. Ex old American collection. This item is accompanied by an XRF ancient metal test certificate from Oxford X-ray Fluorescence Ltd.

Antiques
We are a newly formed company specialising in gothic antiques and are planning to open a store locally.
Other antiques available from antiques