a hound and a terrier in a kennel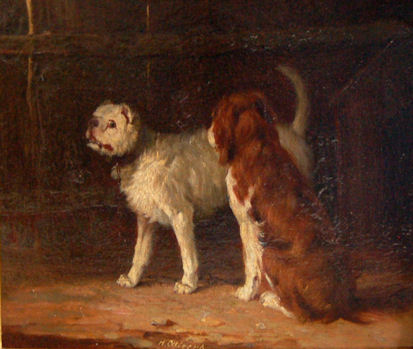 Henry Calvert was born in Tuxford, Nottinghamshire. He lived most of his working life in Manchester, but moved in later life to Southport (home of the Waterloo Cup). Calvert "is a comparatively little known and underestimated artist whose ability deserves greater recognition. His work is of a high standard, his horses well drawn, his composition good and his detail...accurate. Although he would seem to have led a fairly active artistic life his work is now fairly rare" (Dictionary of Equestrian Artists). His best known works are of Hunt Meets (all of which were engraved): ''The Cheshire Hunt'' 1839, ''The Vine Hunt Meeting'' 1843 and ''The Wynnstay Hunt'' 1855.This painting has been sympathetically restored and cleaned, and is housed within a fine contemporary style gilt frame.
Materials:

oil on zinc

Width (cm):

25.40 x 20.32 cm 10.00 x 8.00 ins
Artware Ltd
Artware Fine Art specialises in fine antique, decorative and historical portraits and topographical pictures . We cover a period from the 17th and 18th centuries through to the 19th & 20th Centuries. We have over 150 portraits in stock, which can be viewed on our web site, each historical portrait has well researched biographical information both on the sitter and the artist.
Other antiques available from artware ltd