What I'm Buying and Why?
Posted by ArtNet on 15/10/2019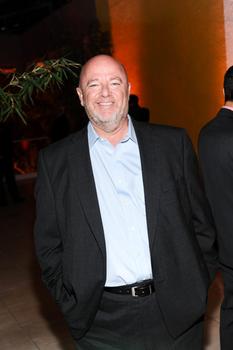 What I'm Buying and Why: Collector Dean Valentine on Where He Shops for Art, and Having a 'Basement Full' of Duds
Dean Valentine, former TV executive and co-founder of the Los Angeles-based Felix Art Fair, reveals the ins and outs of his art collecting habits.
What was your first acquisition?
A piece by a Russian émigré artist, Yuri Kuper, that looked as if Cy Twomblyfound a blackboard in the trash and decided to scrawl on it. It was about $6,500, which seemed like an absolutely ridiculous amount of money at the time.
Brandon Landers, Facin' the World (2019). Courtesy of Dean Valentine.
What was your most recent acquisition?
A painting by a young African American artist named Brandon Landers. It's a tribute to [murdered Compton rapper and entrepreneur] Nipsey Hussle. I'm not necessarily a Nipsey Hussle fan, but I am a Brandon Landers fan.
Where do you buy art most frequently?
In Los Angeles. It's hard to think of contemporary art in the past 20 to 30 years without putting L.A. at the forefront. I feel very lucky that I've been here during all this.
Is there a work you regret purchasing?
I've got a basement full of them.
E'wao Kagoshima, Untitled. Courtesy of Dean Valentine.
Do you have any artwork in your bathroom?
In the guest bathroom, there's a beautiful Surrealist drawing from the 1970s by E'wao Kagoshima. It had to be out of the light, and it's a dark bathroom, so it's perfect.
What is the most impractical work of art you own?
A four-walled room—seven feet high, five feet wide, and eight feet long—by German artist Gregor Schneider. It's bigger than my bathroom.
What work do you wish you had bought when you had the chance?
A Warhol Marilyn gold tondo painting. I was just a medium-level employee at a [Hollywood] studio, and I couldn't afford it.
If you could steal one work of art without getting caught, what would it be?
The Raft of the Medusa by [Théodore] Géricault.