Interior trends for 2017
Posted by Gillian Jones on 11/01/2017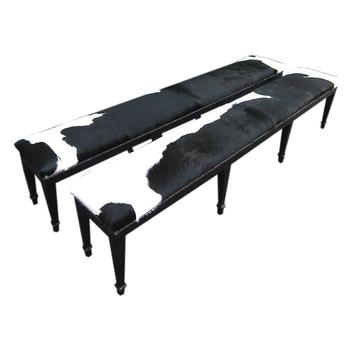 Interior Trends for 2017
Happy New Year! Yet again we have started the beginning of another year and we start with a quick look at what to expect from interior trends for 2017. If you're in the process of refurbishment, or you're getting ready to do it in the spring, then this should be the perfect place to stop first, so you get all the gen on what's in and what's out. It's not overly prescriptive and you don't have to take it too seriously, but it does give you some idea of what to expect in the coming months. That way, the next time you have a look on our site for new items, you'll have a better idea of what to look out for.
Don't go for one single period
If you've been furnishing rooms with one period in mind, then don't, stop it now. If you have a dining room that's strictly 19th century, or a dining room that's very Georgian, then stop being so rigid. Eclectic looks will mix both past and future to create a room that's both fresh and unique, so broaden your horizons.
Space is important, so ditch the oversized furnishings
Space is a premium, and if you have a small room, it's important to make the most of it. A trend that's been around for a while is to have oversized furniture, which if you're into antique furnishings, won't be something you've encountered. Oversized sofas and especially corner sofas have been in vogue, but now we're looking at scaling down to accommodate the space you have, or having something custom made to fit the room. You could exchange a giant-sized corner suite for a couple of chairs and a small antique sofa. Go for something from the 70s with a Scandinavian flavour perhaps, and make the most of that space.
Chinese flavours
As well as the Chinese New Year to look forward to it appears that any fine arts or decorative pieces with a Chinese flavour will increasingly be in vogue for 2017. So, keep an eye out for anything with a Chinese style. There are plenty of items to choose from on our site at www.antiques.co.uk so you'll be spoilt for choice.
Industrial look may be out
Industrial look or brushed metal pieces are out, especially for kitchens, so if you're a fan of old fashioned kitchens with dressers and home built kitchen ranges, then you'll be ecstatic. However, if you've had an industrial look kitchen installed, you'll be feeling slightly disappointed. Keep in mind that these trends aren't rigid and things change, if you do have an industrial kitchen with metal as a running theme, why not try placing free furniture in there if there's room, add a pop of colour and take away the military, austere look of industrial metals and monochrome.
Whatever you decide, you can always ignore the new trends and go your own way. With a directory of new items being added on a daily basis, you're never short of inspiration and fine, quality pieces to add to your home. Until next time, take care.