Flower Jewellery for a perfect Valentines gift
Posted by Iain Brunt on 26/01/2022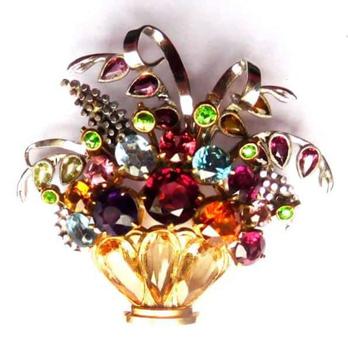 There's nothing more luxurious than flower shaped jewellery – it has a feeling of opulence and a distinct whiff of extravagance to it, while reminding you of the outdoors and of nature's colourful palette.
Of course that all depends on the amount of workmanship that's gone into the item and the resource used, they don't always have to be naturally occurring stones either, even costume jewellery from simple man made materials can be just as effective.
Floral jewellery over the centuries
Of course floral jewels are quite impressive and naturally, they have a long history, with famous designers such as Gabrielle Chanel (coco) and Rene Lalique in the 19th and 20th centuries, working with their favourite flowers to create the most exquisite pieces.
20th/21st century flowers
Joel Arthur Rosenthal has created some beautiful floral designs in recent times, as has Cartier and Victoire de Castellane, whose creations using intricate detailing and vivid colours is a feast for the senses.
Antique/vintage pieces at www.antiques.co.uk
Of course you may not find these to your tastes, and if that is the case, then perhaps you may be more interested in the Edwardian or belle Époque diamond earrings with floral motifs on www.antiques.co.uk, old cut diamonds in platinum and backed with gold, that really are quite beautiful.
Or how about a Russian locket with an art nouveau floral motif set with demantoid garnets. The garnets are apparently a rare form of green garnet, where the only place you could find such a stone was in Russia. (when this locket was made).
Flowers – always something to be celebrated
Flowers have been in art and jewellery for many centuries that were created to either express feeling, enhance surroundings or commemorate important celebrations or observances. Jewellery is the most perfect way to not only mimic nature's most beautiful creations, but to wear as part of an outfit that shows a tasteful appreciation for the botanical, and a pay a respectful nod to Mother Nature herself.
Current trends
There is certainly a trend for floral jewellery in tune with a 70s theme this spring and summer and whether or not you prefer retro or vintage you may prefer your jewellery to be antique.
With spring in full bloom the catwalks and the high streets are going back to nature with wild flowers and floral prints matched by beautifully detailed pieces. A beautifully printed 70s kaftan can be magically transformed into something that bit more special with the addition of a truly inspiring piece of antique floral jewellery.
A beautiful way to pay respect to Mother Nature's flowers
Floral jewellery down the centuries has paid homage to Mother Nature's greatest creations and created the most imaginatively detailed pieces that sometimes appear so real, you can almost smell their scent, or so outlandishly elaborate they celebrate the colours and odyssey of petal shapes so well that you can't help but be in awe.
Whatever you decide, just take a look around www.antiques.co.uk and there's bound to be a floral jewellery piece you can't help but admire and there's plenty there to capture your attention.