Fashion and Victorian Art
Posted by John Stocks amfineart.co.uk on 07/08/2017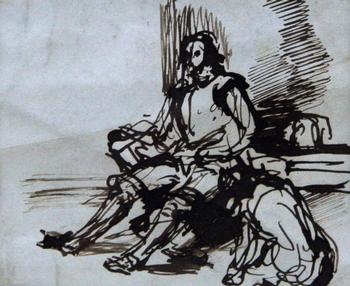 Fashion and Victorian Art
In the current market Victorian paintings are a 'difficult' subject. For the majority they are truly unfashionable but some still retain a high desirability factor. But what is their secret? How do these paintings stand out and hold their place in the current vogue, while others disappear into the realms of dusty 'Victoriana'?
At Kempton Park the other day I saw delightful watercolour by one of the many high quality Victorian artists. It was priced at £200 which was a real bargain or so you would think, but in the current market it was probably just about the right price. 15 to 20yrs ago this picture would have been in 4 figures, but today, sadly, the market has changed and this is no longer the case.
In the art world and the antiques world fashion is everything. If you are not 'in' then you suddenly become an unsalable product, or at best, saleable at a much reduced price. However, fashion is cyclical and what disappears today comes back tomorrow. I am sure in another 10 or 20yrs (or maybe even sooner) people will again re-assess Victorian art and say 'yes, it's got something about it I really like, and it fits in with my retro furniture'
Recently I purchased 3 beautiful drawings by Sir David Wilkie, RA. I haven't been able to ascertain what finished painting they are studies for but I'm investigating as they are clearly drawings for larger oil paintings. Wilkie has managed to stay in fashion, mainly because he a Royal Academician and therefore still highly collected. The drawings are delightful and deserve to hold their place in the pantheon of great art.
Download:
Sir-David-Wilkie-pen-drawing.JPG