Dogs
Posted by Gillian Jones on 28/07/2014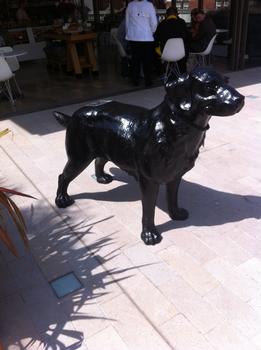 Dogs have been with us for centuries – as companions, or working dogs, they really are man's best friend. We see them everywhere in pictures, on TV, in magazines, we read about them online, and Facebook and Twitter bombard us with those ubiquitous photos of the family dog in numerous funny poses, caught in a moment of pure delight, a vaguely human facial expression, or caught in the act of doing something users think everyone will find delightful. They've appeared in film and cartoons and gone on to be household names, Lassie, Rin Tin Tin, Toto and Greyfriars Bobby. We have Crufts each year to help us decide on the best groomed, the best pedigree and the cleverest, smartest dog in the country.
Back in the day, another way to appreciate the appeal of a dog was as ornamentation and they've appeared in various pedigrees, forms and artwork over the centuries, the ubiquitous pug never without its partner, the brass dog cigarette lighter, or the dog heads on the top of a walking stick. They've appeared in artwork since time immemorial and it's evident that man worshipped his dog as much as the Egyptians worshipped their cats.
Coming back to the ornaments, whenever you see a dog ornament, the questions that arises, in my mind at least, is where's the other one? Aren't they are all supposed to have a partner? Perhaps not, but show me any person that doesn't have at least one dog ornament, however small it may be. Personally, I have a hollow pot dog Jack Russell - yes a Jack Russell, a tradition in my family from a history of Jack Russell breeding.
The imagery of dogs is featured on pottery, vases and jewellery and sometimes associated with religion back in Roman times. By the time the Victorian times arrived dogs were very much part of art and design and featured in portraits that had been commissioned by owners to show off their hunting dogs, sometimes posing with their masters.
If you're a dog lover you may have photographs around your house of your favourite dog, or paintings even. Perhaps you're a collector and enjoy collecting dog ornaments and figurines. There are plenty of dog featured items on www.antiques.co.uk from Sylvac collie dogs to Beswick collie sheep dogs. As well as the more traditional figurines there are other items that are canine inclined. We have an art nouveau sculpture from Spain depicting a woman with 2 dogs, greyhounds. Again from Spain, we have an interesting item in the form of a Trincket Wheel Clock with a dog that looks remarkably like a red setter, or perhaps a Labrador with Arabic numerals and smaller sphere bronzes in the centre. From pug dog brooches, to a staff/walking stick decorated with a dog's head, to a bronze sculpture of a bullmastiff – dogs come in all shapes, sizes and pedigrees, jewellery, clocks and sculptures. Represented in all their glory using a variety of different ways to uniquely show them off, artists and craftspeople have used various methods and materials to show off the faithful dog at its best.
If you're a bit of a dog lover and a fan of any canine related art or antiques then take a look at www.antiques.co.uk you're bound to find something that you'll like and there's an excellent price range, so you're bound to find something affordable.
Enjoy!