Behind the scenes at Antique Collecting
Posted by Iain Brunt on 04/05/2022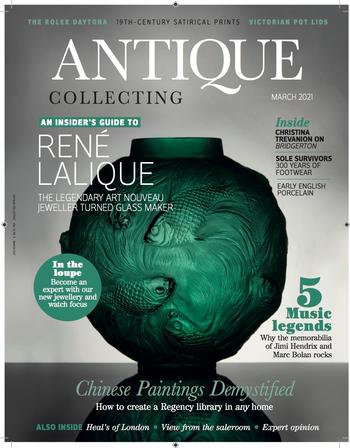 Antique Collecting magazine, the UK's only consumer magazine entirely dedicated to antiques and fine art.
Behind the scenes at Antique Collecting, the UK's only consumer magazine entirely dedicated to antiques and fine art.
Antique Collecting magazine started with two collectors sitting at a kitchen table 54 years ago.
Both were passionate about antiques but could find no source of information for buying and selling. One of the pair, Diana Steel, went on to found the publishers Antique Collectors' Club (now ACC Art Books) responsible for some of the best titles on art and antiques ever written.
From that type-written pamphlet in 1966, Antique Collecting magazine has evolved into one of the most-respected antiques magazine in the UK, written by some of the foremost experts in the field.
While it is now read across the globe, it has retained the same passion for its subject and that sense of being at the heart of a close-knit community.
For that reason it is only available by subscription. And, while reaching out to the next generation of art and antique lovers, it is delighted to count some of those original subscribers among our readers.
Today's columnists are respected experts in the antiques and art world, including many familiar faces such as Lennox Cato, Marc Allum, Charles Hanson and Christina Trevanion.
To reflect the recent boom in watches and antique jewellery, it recently launched In the Loupe, a dedicated section celebrating the most sought-after brands and designers.
So whether you are looking for your next customer, or that next undiscovered consignment, Antique Collecting is the ultimate read. See a recent copy here
Better still, if you subscribe today you not only save ££s on the annual subscription fee, you receive a copy of an art deco book worth £65 absolutely free.