Art Deco one of my favourite periods of design
Posted by Iain Brunt on 17/03/2020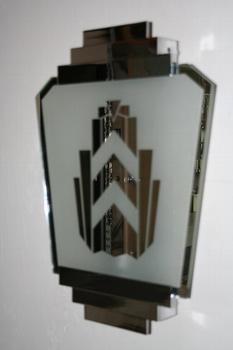 Art Deco furnishings
One particular favourite period of mine is Art Deco. It's far more modern than I would normally feel comfortable with, but there is something so fresh, so new and exotic about Art Deco, that despite its modernist feel, it still retains something old, rich and fragrant, reminiscent of a time gone by.
In 1985 in the spring issue of the Art Deco Society of New York's newsletter, art deco was described as "…. luxury and leisure, for comfort and conviviality. It is an exciting style and should, like the archetypal drink of the period, the cocktail, be enjoyed while it is still laughing at you." http://artdeco.org/what-is-art-deco
Art Deco fits in so easily with other more modern pieces in your home
What's really quite special about art deco furniture is that it fits in with more or less any modern style, and can fit in nicely with any current trend. There is a sense of ostentation and opulence about art deco, which for me, perhaps adds to the splendour of it, giving it its timelessness and modernity all at the same time.
Of course these were the first stages of art deco's early years, it would lose its ostentatious designs with exotic woods and glass, for a more restrained and minimalist approach with plastic, steel, Bakelite and chrome, although wood was still used. There were sharper forms with geometric shapes and symmetrical patterns.
Materials used in later Art Deco furnishings
Materials used were wood with ebony and teak, marble for tables and cupboards, plastic in the form of Lucite and Bakelite, and polished metals. Lacquer made it easier to use cheaper woods and the sheen gave furniture a glossy high end look. Sadly, animal skins were also used, but were usually only purchased by the rich, with tables decorated with animal hides.
If you're looking to furnish your home with art deco, or if you're simply looking for one or two pieces to complete an already existing theme, then take a look at www.antiques.co.uk as there should be plenty there to catch your eye.
Art Deco furniture – what to look out for
Chairs are usually curved with the odd angular lines, they were usually made from wood, leather and chrome. Cabinets were usually made from lacquered wood with extra colours painted over. Beds were usually quite big, with different motifs from the classical eras, such as Aztex or Egyptian, and were made from either metal or wood. Tables are quite popular right now, and rightly so, they are perfect examples of art deco design, often with chrome legs and leather table tops.
On www.antiques.co.uk this month, you'll find a really beautiful set of art deco tables designed by Whytock & Reid from the art deco period, from around 1930. The set of 2 curved tables are made from wood with 3 drawers apiece and rather squat feet. There's also a pair of chairs with straight lines carved from birch wood and pillar design legs. The fabric used to cover the chairs comes in a beautiful shade of crimson. Finally, an art deco display cabinet comes with 2 doors, rounded feet with walnut moulded doors and bevelled glass panels.
There's plenty here to take your fancy, so if you're in the mood to add a few striking Art Deco pieces to your home, then www.antiques.co.uk should be the ideal destination.