Antique/vintage gifts are so much more interesting than brand new ones
Posted by Iain Brunt on 09/12/2021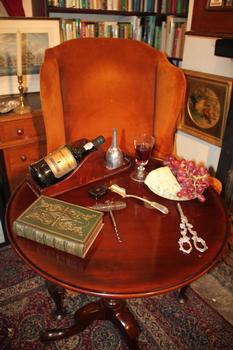 If you're one of those people that like to buy gifts which are both original and unique, then a trip down the high street is possibly the worst idea possible. And buying antique doesn't mean you're buying some dark wood coffee table that no one will want, or a large, heavy and unattractive lamp that your friends are going to want to hide in the loft. Antiques gifts cover a wide range, and not all of them are purely for aesthetic purposes, some still have a functional use, a unique alternative to today's made-quickly-out-of-man-made-materials products which won't stand the test of time.
Unusual, unique and beautiful
Let's look at some examples. These particular items could be off the page by the time this blog goes online, however, they do illustrate how easy it is to pick up items which are both unique, original and a worthwhile investment. We have an unusually shaped pewter box which has been exquisitely designed, a perfect gift which has practical uses as well as purely ornamental. There's some gorgeous rings too, with the Victorian Opal and Diamond half hoop ring and an unusually shaped diamond ring.
And if you're looking for some random and off the radar slightly, how about a French frame with new glass? There's also the most beautifully detailed 19thcentury Cantonese enamel plate, or the 1900s-yellow upholstered Prie Dieux carvings. Yes, it is just the one chair, but can you imagine it placed carefully in the best corner of the hallway or the living room, a real conversation starter as well as something to sit on.
The pleasure's in the giving as well as the receiving
An unusual vintage or antique item could be the opener to a question, a business venture, a thank you, or simply a reminder of good times gone by. Taking the time to choose something that's a one off, and beautifully unique, the pleasure's going to be in the giving as well as the receiving.
Make sure you take a leisurely look around our online site, and don't forget that by browsing online for your gifts, you cut out the stress of shopping and fighting your way through the crowds, doubling your chances of finding something unique that catches your eye. That's got to be better than the harsh lighting of a shopping mall