Antique wardrobes
Posted by Gill Jones on 22/09/2013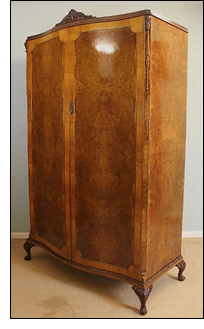 When is a wardrobe not a wardrobe? When it's believed to be something completely different and you may or may not be surprised to know that a wardrobe wasn't always for storing clothes. In the medieval times a wardrobe would most often be referred to as a room rather than a place to store clothes, while a press was often used to store garments lying down. By the 17th century however a wardrobe was starting to be recognised as a place to store clothes that were hung up rather than laying them flat. They were often built into panels in a bedroom that seemed like an early version of the inlaid wardrobe. So by the time we reach the 18th century the wardrobe had become two very separate things, a clothes press where clothes would lie flat in order to smooth them out and then the wardrobe (a recess within a wall) in which garments were hung up.
When the 19th century came along many things were now being mass produced in keeping with the changes brought on by the industrial revolution. This would also include furniture production. As a result of increasing affluence people had more money to spend on clothes and of course they had to be stored somewhere. At this time the bedroom suite started to appear and often a wardrobe would be part of a suite of bedroom furniture that would include a dressing table, bed, a washstand and of course a mirror, which would be placed on the centre door of the wardrobe. Wardrobes would often follow a pattern of a hanging part for clothes on each side and then a centre door with the mirror, with drawers inside the wardrobe for gloves and other small items.

Wood used would normally be either oak, pine or mahogany and these are still used today. Although some wardrobes now come with some assemblage required they don't quite have the style and charisma of earlier wardrobes.

There are wardrobes in abundance over at www.antiques.co.uk and the 19th century neo classical burr ash and rosewood is a classic example of fine workmanship and 19th century design. It dates from the mid eighteen hundreds and has the classic design mentioned earlier with the three doors, with the centre door housing the mirror. Its cornice top matches nicely with the Rosewood inlaid frieze and central arched pediment of Rosewood. It's certainly large enough to hold quite a generous amount of clothing.

Carved out of more a traditionally used wood; take a look at the regency mahogany wardrobe, which is another fine example of 19th century workmanship. What you will see from the picture however is that it certainly doesn't have the traditional three doors with a centre mirror. Instead, it has a smaller wardrobe either side with a centre linen press cupboard, where on this occasion the press element has been combined with the hanging clothes part of the wardrobe. The wardrobe splits into 8 pieces and some assemblage is required in order to put it together, which is a reminder of the later DIY versions of wardrobes that would follow! It's over 150 years old and is in excellent condition and a rare find for this kind of wardrobe.

The final wardrobe is a rather ostentatious design in the Italian rococo style from a modern era in the mid-1950s, painted white with ornate door handles and elaborate drawings on the doors. It contains in all, three double wardrobes with a central wardrobe with overlaid decorative scroll work. The two outer wardrobes are painted in a pale duck egg blue with central doors painted in a natural colour. And the best part is that inside there is a velvet cloth backing (original) with full length mirrors inside the central doors. Nothing can beat the old wardrobes, yes they took up a lot of room and could be bulky and prone to woodworm and quite terrifying if you got trapped inside one, but there grand and stately designs and exquisite workmanship meant that they made beautiful furniture pieces as well as functional and durable storage areas, and they still do. You many not expect to find a witch on the other side of the wardrobe doors, but what you will find is a kind of nostalgia and a sense that some things should never change.