Antique Mirrors
Posted by Gill Jones on 09/09/2013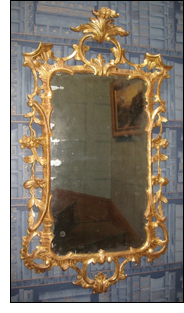 Mirrors are the windows of the soul. They're places for self-admiration as well as just a reflective surface on a wall. They can certainly add certain grandeur to a room or hallway when you have one. When out shopping for antiques or vintage furniture, it's easy to be carried away by the romance of a beautiful mirror and why not, I can think of no greater way of enhancing the beauty and shape of a room than with a mirror.

Mirrors of course have been around forever, and the first glimpse, as humans, we had of ourselves is probably via water collected in a simple vessel. People started making mirrors from around 3000 BC in Egypt and from around 2000 BC in China.
During the renaissance, the mirror was reborn as a something more sophisticated with a coating of glass that was made from tin-mercury amalgam. This really took off, especially in Venice where they perfected the craft of mirror making and became famous for their mirrors during the 16th century. The Saint-Gobain factory in France because renowned for mirror production and by the 17th century mirrors were made all over London and Paris.

Mirrors can be small and modest or they can be large and ornate. None more so than the Chinese Republic period mirror on www.antiques.co.uk . This is a particularly fascinating one as it's carved from rosewood and the carvings are typically Chinese and exquisite to behold. It's a mirror mounted on a side cabinet and each corner is held up by carved Samurai soldiers and Shee Shee lions holding the mirror aloft. There are various floras and fauna surrounding the cabinet and the overall effect is quite astounding. Wherever that mirror sat in your house it would certainly become a talking piece.

Another beautiful and ornate mirror from the antiques directory, is from an earlier period and is a carved and gilded cushion mirror. It has some gorgeous detailing including a foliate carved edge and gilded beading throughout the entire mirror. It has an oval centre and the overall effect is stunning. Bevelling techniques, which means reducing a square edge to a sloping one, as seen with this mirror, were not used on a wider scale until the mid-seventeen hundreds; mirrors were then bevelled until more modern times, when it became too expensive. From the early 1800s a large majority of wall mirrors were made with convex glass, meaning the mirror curved or bulged outward.

A rather unusually shaped shield mirror took my eye and understandably so, it's not as large as some of the other mirrors described here, but it certainly has all the hallmarks of a collector's piece with its swags and ribbons and scroll design running around its edges. It dates from the late Victorian period, the early nineteen hundreds and it certainly makes for a very striking addition to any bedroom or hallway.

A final look at mirrors ends with this less ornate but no less beautiful Whytock and Reid large walnut mirror from the early 1900's. Whytock & Reid were cabinet makers and upholsterers based in Scotland who started business separately in the 1800s and remained renowned furniture makers for close to 200 years. This mirror is in a Queen Anne style with a larger, thicker top, it's been hand bevelled, and the quality of the wood along with the body of the mirror is in excellent condition. It would make a perfect bedroom mirror or for standing at the end of a hallway.

Mirrors are definitely the ideal finishing touch to any room, they can come from any period with whichever design you feel is appropriate to your tastes. They mirror your likes and your personality as well as giving out a reflection of image.