Antique Clocks
Posted by Gill Jones on 06/09/2013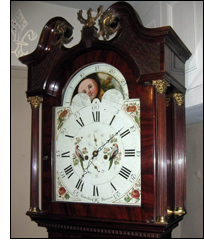 "I must govern the clock, not be governed by it."

The words of Golda Meir the one time Israeli Prime Minister, wise words indeed, but one can however, admire a clock, even if one does not allow oneself to be governed by it.

I love clocks, I can remember listening to the rhythmic ticking of my Aunt Agnes' grandfather clock, it wasn't a full one, but a half with a large swinging pendulum, and it hung beautifully from the wall near the door of her sitting room. I waited eagerly for the clock to strike on the hour and it was my first real sense of time and its passing.
Clocks have almost been replaced now by technology, we have the laptop, the mobile phone and the tablet to keep time for us and to wake us in the morning. Clocks could represent the rather depressing side of time passing as it became forever connected with retirement, as each year yet another employee left with the ubiquitous gold clock before disappearing into the sunset. However, they can also remind us of better times when we weren't rushing around quite so much and had time to stop.

The Tavern clock on www.antiques.co.uk is a perfect example of exceptional craftsman ship and dates back to the late 1700s to mid-1800s. They were also known as Act of Parliament clocks; apparently they were given this name due to the imposition of taxes in the late 1700s. Five shillings was imposed on every clock and ten on gold watches, with 2s and 6d on every silver watch. Of course if the clocks were in a public house as tavern clocks were, they were exempt from this tax. This tax law was only around for 9 months as it was extremely unpopular, no surprises there. They were usually lacquered with wooden dials and came with brass hands so that they could be seen easily against the dark background. This one has the traditional black background with brass hands and a 5 wheel train and tapered plates. It's by P.Lacy, of Bristol and it is a truly magnificent clock.

The rather interestingly named eight day long case clock is held inside a wooden tower case. This one has a flame Cuban mahogany case with Chippendale gothic door and cluster columns. William Clement, an English clockmaker is said to have developed these types of clocks in the late 1600s; due in part to coincide with the invention of the anchor escapement mechanism, this meant that it had the ability to make the pendulum not swing as wide so longer pendulums could be used inside a tower case. Shortly before this invention freestanding clocks didn't come with a long case surrounding it and came with shorter pendulums, because they had such wide swing motions they were unsuited to being kept inside a case. This eight day long case clock is particularly beautiful with a broken swan neck hood and blind fret work, the dial itself has an enamel dial with delicately painted birds to the centre and a moon near the arch. Where does the eight day come from? Well it simply means that an eight day clock could be wound up just once a week.

We have to finish with another long case clock, a magnificent George IV clock in oak and mahogany with swan neck pediment top and inlaid with satinwood. The white arched dial has a rolling moon with exquisite paint work and floral spandrels and spandrels is a particularly magnificent word, meaning the triangular space between one side of an outer curve of an arch and a rectangular edge. For those of you with a love of words, you will appreciate the spandrel.

Clocks and their inner and outer beauty are a source of fascination and will continue to be so, regardless of the digital age we now live in with its 24 hour clock and those digital numerals we see blinking back at us, although we don't keep time by the grandfather clocks of yesteryear it would seem that we are all still governed by time.