Top 10 Most Viewed Items on Antiques.co.uk this month


To all our visitors, members and colleagues may all of us at www.antiques.co.uk wish you a very happy, healthy and prosperous 2013 in whichever corner the world you may be enjoying yourselves.

As the years go by www.antiques.co.uk continues to grow its market presence worldwide, increasing our visitor numbers and our items available to purchase. Currently we have over 75,000 items for sale making us the largest fixed-price antiques website in Europe. We introduced a large number of upgrades to the site in 2012 and have now also developed a new save and search system which allows us to email you when new items arrive on the website. So go ahead: sit back and relax - we'll inform you when your favourite antiques become available!

We have one of the only 48-hour online valuations services from as little as £5.99 per valuation - why not get up into the attic and find that treasure that you always thought was there. It's behind that old box your grandfather gave you! Here's a good find by one of our sellers Roger Grimes: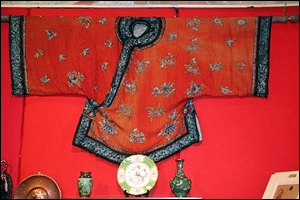 A 19th or late 18th century Chinese patterned silk robe with applied decoration, we think for a young woman. This was purchased privately from the attic of a large old Irish house and along with other textiles had been used for fancy dress parties and is worn in places.

The robe was collected in the 1880s when an ancestor travelled to China. We have priced the item but this is not our field and may consider offers.

Read more


December Quiz
Thank you for all your answers to December's quiz, the answer was: a type of sundial that compensates for the elliptical orbit of the Earth!

The winner of the 12 month free subscription to list unlimited items on antiques.co.uk goes to Roger Crabtree. Congratulations!



January Quiz
We are going to be extra generous this month - the FIRST FIVE correct answers will get 6 months free subscription to Antiques.co.uk (worth £125). Answer the following question:

What is the best way to invest 55p a day in the antiques world to get immediate returns on your investment today?

A) Save up to exhibit at one of the local antiques fairs?

B) Save up to advertise in one of the antiques magazines?

C) Open an account on www.antiques.co.uk and list unlimited items which will be seen by over 100,000 viewers a month and get instant clients and sales so that you can do the other things as well.

Please email your answers to mail@antiques.co.uk

Results will be published in our February newsletter.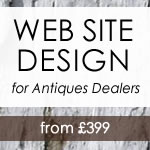 We are pleased to announce the launch of our new website design and consultation services from ph9, our affiliate partner in producing web sites specifically for Antiques Dealers.

Ph9 are a company who believe in making computers and the web easy for Antiques dealers. They produce web sites which help Antiques businesses save time, make more sales, look stunning, and are easy to update.

They work with Antiques Dealers of all abilities, and show their clients how to update their web sites and provide great remote help by remote controlling into your computer so it's like they're sitting next to you, no matter where you're located!

Their web sites are great for both dealers who do have a shop, and also those who don't.

Their web sites are integrated with the antiques.co.uk platform (using our XML feed service) so whenever you add an item to your own web site it's uploaded straight to antiques.co.uk - so it's time efficient.

What's more, all new websites come with an offer
of a half-price membership of Antiques.co.uk!

ph9 have produced web sites for the likes of Christopher Hodsoll, Spencer Swaffer, Martin D Johnson Antiques, Appley Hoare and others. They have clients in the UK, USA and across Europe.

They provide two types of web sites:- All of their web sites can be customised to have any features you require, and ph9 offer a great range of add-ons to help you get the most of the web.

Ph9 have been around since 2004, so won't disappear on you like many other web agencies. Plus they provide you the ongoing support and help so you've always got someone you can talk to.

For more information contact Rob or Sam on 020 8819 8383, email hello@ph9.com or visit www.antiqueswebdesign.com, remembering to mention Antiques.co.uk in order to take advantage of the half-price membership offer!


Our fees remain the same in 2013
It's just 55p per day to list and sell unlimited items on Antiques.co.uk
There are no extra fees or commissions.
Most Recently Uploaded Items on Antiques.co.uk







If you would like to advertise in this newsletter please contact Iain Brunt on mail@antiques.co.uk