Top 10 Most Viewed Items on Antiques.co.uk this month


Once again the provinces set a record price for this Lalique vase at £280,000 which was discovered by Anderson & Garland in a house just outside of Morpeth, Northumberland during a routine probate valuation.
Click here to read more...


We are sorry to keep on recording the very increasing danger of discovering fake antiques online. Again we are grateful to one of our members David Leach who kindly sent us this ebay report.
Click here to read more...


September quiz winner
Thank you for all your answers to September's quiz, the correct answer was Auguste Bartholdi who was the famous French Sculptor who designed and created the Statue of Liberty. The winner is Michael Campbell of Campbell Fine Art. Congratulations!



October Quiz
For your chance to win one year's free subscription to Antiques.co.uk (worth £250), answer the following question:

This memorial was created for a 20th century English Artist. Can you name who the artist is and where it is situated in the UK?

Please email your answers to mail@antiques.co.uk

Answers will be drawn on October 31st and the results published in our November newsletter.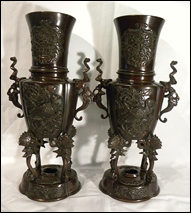 Our item of the Month comes from Smugglers Cottage - one of our valued sellers.

A superb pair of late 19th century/early 20th century Chinese bronze censors. In excellent condition.
Bronze 33cms
£220.00.

Click here for more information...

Please send in your items to be included in our Item of the Month to Iain@antiques.co.uk



I'm delighted to say that after six years of research, my book on mid-century modern, retro and vintage Italian ceramics has been published and is now available!

The information in this book has never been published together before, and includes the rediscovery of a 'forgotten' factory. Names covered include Bitossi, Bagni, Bertoncello, Fantoni, Gambone, Fornasetti, and the factories on San Marino. This already hot market is set to rise - get in early!

Alla Moda: Italian Ceramics of the 1950s-70s was launched in conjunction with a ground-breaking exhibition of ceramics from the Graham Cooley Collection. To see photos of the exhibition, please click here. To find out more about and buy your copy of the book, please click here.

If you love West German 'Fat Lava' pottery, you'll love this!


Autumn survey
The Antiques.co.uk Autumn survey is FINE ART AND ANTIQUES INSURANCE.
We are asking all readers to send in their views about antiques and fine arts insurance.
It seems that there are so many choices these days of whom to insure with and the costs involved. Please email us your thoughts and comments about these problems so that we can find the ideal policy to take out for dealers in the UK. Please send them to mail@antiques.co.uk



Most Recently Uploaded Items on Antiques.co.uk









If you would like to advertise in this newsletter please contact Iain Brunt on mail@antiques.co.uk