Top 10 Most Viewed Items on Antiques.co.uk this month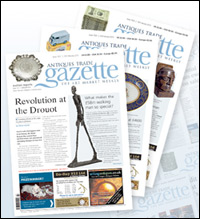 We've got an exciting special deal for new subscribers to Antiques.co.uk this month. We are giving away a complimentary copy of the ATG Art and Antiques Diary 2012 to subscribers who open a new seller account with us.
The Antiques Trade Gazette is the definitive weekly art, antiques and collectables magazine. Get 10 issues for £10.
Subscribe and every week they send you:
details of thousands of auctions in the UK & around the world;
the latest antique and art market news;
auction previews and reports;
UK and international calendar of auctions and fairs;
update on fairs and shows in the UK and around the world.
To take advantage of this offer, click here.


Bring a touch of Deco bling to your seasonal home
By Andrea Hall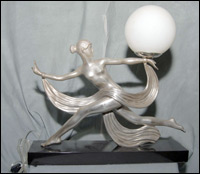 What could be better at this time of year than a bit of 20s glamour to brighten up your home?

Mirror, glass and beautiful geometric shapes that catch the light are a great way to make a room seem lighter and more cheerful during the dark winter days.

What about a mirrored chest or dressing table to fill a dark corner, or a lovely deco lamp to add a touch of style and glamour?

It doesn't matter if you have antiques from another period, you can mix and match or add a single statement of timeless deco design to draw the eye and set off an otherwise ordinary piece of furniture. It's also great for adding depth and personality to a contemporary room or to give a starting point to an interior design scheme.

If y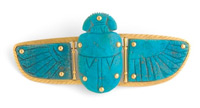 ou like the look of Deco, but aren't brave enough, or don't see how it could fit into your home, then why not consider a piece of jewellery. There's lots out there to choose from and it can be understated, or colourful and frivolous, but it's always chic. And with prices starting at just a few pounds it's a great idea for a Christmas present too!

Whatever your taste there's no denying that deco reflects a time of fun and opulence which is the perfect antidote to these gloomy times.

Andrea Hall is a graphic designer, magazine designer and earstwhile graphics journalist with a personal interest in vintage and period interiors.
www.andreahall.co.uk

Search for: 'art deco', 'lady lamp 'deco mirror 'and '1920' or '1930'


Well, it's not exactly a Christmas tree, but this Art Deco brooch of carved emerald leaves, rubies and diamonds in a gold pot , circa 1925, would certainly bring some festive cheer to the lucky recipient. It's one of the many unusual items to be found in N.Bloom & Son's collection www.nbloom.com and on our website.
N.Bloom & Son was founded in 1912, grandfather to Ian Harris, for 32 years jewellery 'expert' on the Antiques Roadshow, who now runs the company, trading only on the web since closing his last Mayfair shop some years ago.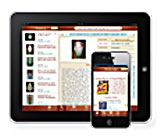 To celebrate the launch of their new iPhone and iPad app available free from iTunes now, WorthPoint.co.uk are delighted to offer antiques.co.uk newsletter subscribers a huge discount off their highest level of membership.
With a Power membership you get unlimited access to the Worthopedia – a price guide for over 100 million antiques and collectables. This would usually cost you £34.99 a month. With this discount code – UK13211c47 – it will only cost you £6.99 a month! Click here to sign up now.
WorthPoint launched its new iPhone and iPad application last week, giving us anywhere, anytime access to the ultimate online resource for art, antiques and collectibles. Now you can access WorthPoint on the move to obtain sales records and reference information on virtually any collectible item, as well as the ability to locate all your local antique businesses.
The new iPhone and iPad app is ideally suited for professionals who will benefit from on-the-go data in WorthPoint's Worthopedia before making purchases or sales. The Worthopedia is the world's largest online price guide containing more than 100 million sales records from leading auction houses and virtual marketplaces.
WorthPoint launched in the UK last August and past UK price data is now included in the Worthopedia. WorthPoint also offers online valuations from a team of local experts who are known as Worthologists. You can receive a valuation online for £11.99. Click here to find out more.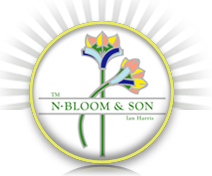 I've subscribed to Antiques.co.uk for two years now. It has produced many enquiries, and quite a few sales with some customers becoming regulars. The modest cost has been recouped many times over. For anyone with their own website, as I have, using an XML feed means that anything you put on your own website automatically comes up on Antiques.co.uk, saving a lot of time. For those without their own website, entering stock items on Antiques.co.uk is quick and easy. Good photographs are essential - simple, even with quite a modest digital camera.
Since I closed my last retail shop five years ago, I have traded solely via the internet. You can be on-line, and respond to enquiries, almost anywhere in the world. When selling on-line, reputation is all important, as it largely means taking you on trust for what may be a substantial amount of money. Absolute integrity and professionalism is essential. Any faults or restorations must be stated- as under EU law, a 'distance sale' customer is entitled to a full, unconditional refund provided an item is returned in the condition in which it was sent. For anyone wanting to expand their sales and contacts - and which of us does not? - I would recommend Antiques.co.uk as a means of increasing visibility, contacts and sales.
Ian Harris
N.Bloom & Son


Most Recently Uploaded Items on Antiques.co.uk







Instead of sending out Christmas cards this year, Antiques.co.uk have elected instead to donate to the Cyber Knife organisation to help save cancer patients. http://www.cyberknife.com/
If you would like to advertise in this newsletter please contact Iain Brunt on mail@antiques.co.uk