Top 10 Most Viewed Items on Antiques.co.uk this month


Featured Item
A rare and beautiful George 1st, 18th century, English armchair from the Sir Henry Price collection UK.
Further enquires please email mail@antiques.co.uk
or telephone 44(0) 207 193 4353


Fine Cell Work, the unique social enterprise that trains and pays men and women in prison to create professional tapestry and quilting in their cells is holding two special Christmas Exhibitions and Shopping Events in November.

On Wednesday 9th, 10am-6pm, and Thursday 10th, 10am-4pm, the charity will be in London's Notting Hill at The Twentieth Century Theatre, 291 Westbourne Grove, W11. There will be exquisite patchwork quilts for sale and literally hundreds of the prisoners beautiful tapestry and embroidered cushions. Many of the design ranges have been exclusively created for Fine Cell Work by well-known interior designers such as Nina Campbell, Melissa Wyndham and Nicky Haslam. On both days there are talks and drop-in stitch classes including a talk at 12 noon on Wednesday 9th by Sue Prichard, Curator, Contemporary Textiles at the V&A Museum on "Quilts: Hidden Histories, Untold Stories".

On Friday 18th November the charity heads north to Newcastle to the Sage Gateshead. Here from 10am-4pm there'll be fabulous displays of the prisoners work to admire and buy. At 12 noon Chief Executive Katy Emck will give a talk on Fine Cell Work and its' volunteer network that teaches needlework in 30 British prisons. Admission to all these events is free.
For further details visit www.finecellwork.co.uk



WorthPoint brings you past market prices for over 100 million antiques and collectables along with a team of independent experts who can guide you with opinions and online appraisals. This service is combined with all the latest industry news within a vibrant community centred on the value of your collectables and the stories that make them special for you.

WorthPoint was originally founded in the US in 2007 by Will Seippel. Will has been an active collector of antiques for most of his life and his deep appreciation of this area led him to envision a global online community.

WorthPoint launched in the UK last August. A local team of valuation experts was established and past UK price data is now included in the Worthopedia – the largest antique and collectable price guide available online. WorthPoint offer a 7 day free trial for the price guide or you can get an individual valuation for £11.99.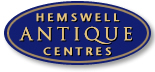 Antiques.co.uk is a great antiques website that has all the functions that you would ever need and more, and at a reasonable price. Here at Hemswell, we have known Iain for many years, and are happy to be part of the antiques.co.uk website. We receive many good leads from our listings, that often turn in to sales. Well worth giving it a try!
Jonathan Dilley
Hemswell Antiques Centre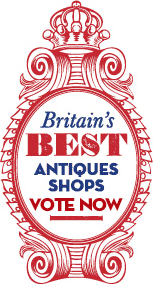 Could you be Britain's best?

To celebrate this year's National Antiques Week (14th-21st November), Homes & Antiques magazine and Antiques News & Fairs have joined together to find Britain's best antiques shops and auction houses. From early October until the end of November, the public will be invited to nominate their favourite antiques destinations in five categories:
best antiques shop

best antiques centre
best specialist shop
best mid-century/vintage shop
best auction house
The winning businesses will be announced by TV celebrity Kirstie Allsopp at the Bath Decorative Antiques Fair on 8th March 2012.

'Too many people are afraid of buying antiques or think they're expensive,' says TV presenter Kirstie Allsopp. 'The message that needs to be sung from the rooftops is this: this is the right way to buy – antiques hold their value in a way that modern furniture simply does not. This initiative is the perfect opportunity for the trade to reach out to new customers.'

Nominations take place on www.homesandantiques.com and www.nationalantiquesweek.co.uk


We've got an exciting special deal for new subscribers to Antiques.co.uk this month. The first 5 new members to subscribe to a sellers account will receive a free copy of Millers Antiques Handbook worth £30-00.

Every year more than 8,000 items are photographed to make Miller's Antiques Handbook the most comprehensive and informative price guide on the market. Whether you're buying or selling, a dealer, collector or auctioneer, this is the book you need to help you keep track of the international market. Whenever you're buying or selling, always take Judith with you.



Most Recently Uploaded Items on Antiques.co.uk







If you would like to advertise in this newsletter please contact Iain Brunt on mail@antiques.co.uk