Top 10 Most Viewed Items on Antiques.co.uk this month


We've got an exciting special deal for new subscribers to Antiques.co.uk this month. The first 5 new members to subscribe to a sellers account will receive a free copy of Millers Antiques Handbook worth £30-00.

Every year more than 8,000 items are photographed to make Miller's Antiques Handbook the most comprehensive and informative price guide on the market. Whether you're buying or selling, a dealer, collector or auctioneer, this is the book you need to help you keep track of the international market. Whenever you're buying or selling, always take Judith with you.



Antiques of the future from yesterday's scrap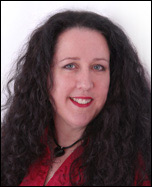 By Andrea Hall

I know a lot of people think up-cycling is a grotesque and absurd way to pass off broken old tat for an extortionate fee – but for those of you who have mental pictures of Harry Enfield's 'I saw you coming' sketches springing to mind at the very thought, I implore you to look again.

Lets face it, it's nothing new – the 'make do and mend' generation made patchwork quilts and rag rugs from old clothes for instance. The idea is that the donor items might have had their day for their intended purpose, but there's still life in them if you think laterally.

Some pieces plainly are a good practical use of something that would otherwise be thrown away. And at the very least it's good for the soul to know you're doing your bit for the environment, but the most quirky and unusual pieces are far, far more than that.

These items, whether they be a peculiar arrangement of drawers in different shapes and sizes or a stunning necklace made of old circuit boards are in my opinion hugely clever and ingenious works of art.

It takes a great amount of creative thought to come up with the idea in the first place, and then design it. Followed by an equal amount of practical skill and craftsmanship to pull it off.

They are the perfect marriage of old an new and are a great talking point at dinner parties – far more so than the average sideboard for instance. They add a touch of fun and frivolity, and they say something about you too – that you like the idea of recycling, but you also appreciate contemporary design and are not afraid to make a statement either.

Whichever way you look at it, at the end of the day, they make you smile and they have a purpose. Not only that, but I really do believe you'll see them selling for a lot more to future generations!

Andrea Hall is a graphic designer, magazine designer and earstwhile graphics journalist with a personal interest in vintage and period interiors.
www.andreahall.co.uk

Search for: 'up-cycle', 'upcycle', 're-cycle' and 'reused'


Featured Item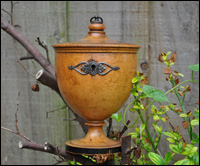 Antique Souvenir Tea Caddy from the Spa Town Ischl featured on BBC 2 Antiques Master.
This wonderful Treen Tea Caddy in the shape of a Urn, made from a single piece of fruit wood most likely to be apple or pear wood.
The front of this charming caddy has a elaborate steel escutcheon with the base being ebonised. The top of this urn caddy has a ring handle and simple early transfer ware of flowers either side of this writing"Andenken Von lschl" Translated means Souvenir from Ischl which is a charming Spa town in Austria. In the early 19th century brine (naturally occurring salt water) came into use for medical purposes, Ischl soon became a fashionable spa resort with notable guests like Prince Klemens Wenzel von Metternich and Archduke Franz Karl of Austria. So with more affluent people coming to such resorts to bathe, brought shops selling high quality goods & souvenirs like this Tea Caddy, for visitors to purchase as a keep sake to remember their nice relaxing visit to this charming and pretty town.


Desirable Items Wanted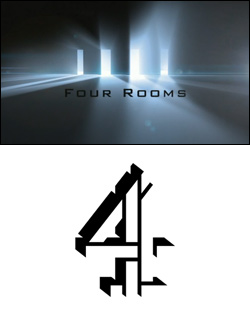 Channel 4's Hit Series Four Rooms is back and looking for more extraordinary items to feature in the second series.

Do you own something unique, rare or beautiful that you want to sell?
Our four top dealers are ready to part with their cash for something truly exceptional.

From iconic memorabilia to beautiful or rare objects, or even the grotesque and macabre, your item could be bought for life changing amounts of money.

If you own an item that you would like to show the dealers, we want to hear from you!

To apply please call 0207 861 8499
Or email a photo and description to fourrooms@talkbackthames.tv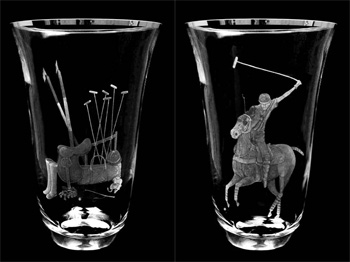 Don't leave it until the last minute these amazing hand engraved polo trophies have just been commissioned by an American client of ours.
Hours of painstaking engraving The UK's leading engraver she has created these beautiful and unique pieces. Over 12 inches high.
See more details on www.poloantiques.com
or call 44(0)845 2602260.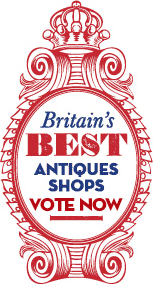 Could you be Britain's best?

To celebrate this year's National Antiques Week (14th-21st November), Homes & Antiques magazine and Antiques News & Fairs have joined together to find Britain's best antiques shops and auction houses. From early October until the end of November, the public will be invited to nominate their favourite antiques destinations in five categories:
best antiques shop

best antiques centre
best specialist shop
best mid-century/vintage shop
best auction house
The winning businesses will be announced by TV celebrity Kirstie Allsopp at the Bath Decorative Antiques Fair on 8th March 2012.

'Too many people are afraid of buying antiques or think they're expensive,' says TV presenter Kirstie Allsopp. 'The message that needs to be sung from the rooftops is this: this is the right way to buy – antiques hold their value in a way that modern furniture simply does not. This initiative is the perfect opportunity for the trade to reach out to new customers.'

Nominations take place on www.homesandantiques.com and www.nationalantiquesweek.co.uk



We joined Antiques.co.uk approximately six months ago and find the site easy to use. Help is always on hand with any query and so far we have had enjoyed substantial business which has resulted in sales values which would cover at least two to three years subscription. We highly recommend Antiques.co.uk.

Smugglers Cottage Antiques & Interiors is based in a period thatched cottage in Dorset. The proprietors, Roger & Victoria Garlick, specialise in an eclectic collection of antiques to include Oriental and Asian art, silver and bronzes. Roger has a wealth of knowledge dealing in find art and antiques gained over the last forty five years. He started out in the West End of London and ended up in a shop in Dorset specialising in Antique silver and jewellery. Roger has undertaken valuations for major banks, wealthy private individuals and some years ago was instructed by a West End firm of valuers to appraise the jewellery ands silverware of a major stately home in Southern Ireland.


Most Recently Uploaded Items on Antiques.co.uk







If you would like to advertise in this newsletter please contact Iain Brunt on mail@antiques.co.uk