Antiques.co.uk keeps on growing from strength to strength - the number of buyers locating items they're looking for is increasing exponentially on the site, and with the new seller-notification tools (where any search you save on Antiques.co.uk automatically notifies sellers of your wishlist so they can add their related items for you to look at), we're turning the antiques world upside down! And don't just take our word for it, the industry gospel, the Antiques Trade Gazette agrees, marking us out for special mention in an article about purchasing antiques online.

Here's what's hot in the world of antiques this month:


Appear in a new TV Show - "Dealers"

TV production company Fever Media are looking for Dealers from the world of antiques and collectables to appear on a brand new TV show. We are seeking hard-nosed dealers to feature on our series to bid on a number of items that are brought in by members of the public. These items could be anything from a vintage sportscar, to a grandfather clock. Ideal dealers will have a good eye for a deal and a strong interest in a variety of different items and periods. They must also have a good knowledge of antiques and collectables and be skilled in the art of 'flipping' items.

The show
Imagine a place where you could sell ANYTHING – a comic book collection, a collection of Barbie dolls…even a Victorian steam train. Nothing is too strange, too big or too unsellable!

Welcome to 'Dealers' – the show housed in a secret Aladdin's cave where you can bring anything you want to sell.

Inside this space are 4 of the hardest-nosed buyers and sellers in the U.K – meet our Dealers. One by one, members of the public can come and try to sell ANY item they think might have value or be of special interest to the Dealers.

The viewers at home never know what is coming though the door next…it could be a collection of 1970's toys, but it could be an old Russian fighter plane…or a collection of 1st edition Charles Dickens' books…or the fishing rights to the river at the bottom of someone's garden! Anything can be bought to the Dealers!

If you would be interested in featuring as a dealer on the programme please contact Kieran on 0207 428 5749 or email kieran.clubb@fevermedia.co.uk.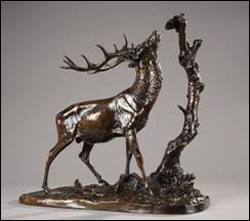 The Romantic movement, in addition to its influence across all artistic fields, promoted the emergence of a particular genre: the animal sculpture. Animals fascinate the romantics; they represent the wildlife, the world of Nature, perfect mix between violence and sensibility.

The work of Antoine Louis Barye is most representative of this genre, followed by many sculptors such as Alfred Barye, his son, Pierre-Jules Mene and his son in law, Auguste Cain, the sculptor of the lions and tigers, who made the representation of these beasts his specialty.

Other animal sculptors following the example of Antoine-Louis Barye also produced many decorative objects, using the animal directory: Stork, turtle, lizards or frogs appear on the base or on the stems of candelabra. Each of these animal representations reflects, in its way, the romantic impulse that runs throughout Europe in the Nineteenth Century.

Louvre des Antiquaires
2 Place du Palais Royal
75001 Paris - France

Tel: +33(0)1.42.61.79.72
Mobile: +33(0)6.17.08.51.58
Website: www.galerie-atena.com




It is exactly 18 months now since Valuemystuff.com launched and since then they have done over 60,000 valuations for 27,000 customers, averaging around 200-300 valuations per day. The success of the website lies foremost in the quality of expertise, with all experts being ex Sotheby's , Christie's or Bonhams, and in the speed at which valuations are processed.

We have therefore a special offer for all antiques.co.uk customers where we offer 2 free valuations for every 10 valuations purchased. Simply type in code ANTQMARCH when you purchase credits and 2 free credits will be automatically added to your account.

In February we discovered a Rodin bronze, a 16th century coin worth £25,000 and a collection of Old Master Paintings worth over £500,000. We would like to extend our thanks to all of you who have used our services and look forward to a continued success.

Thanks,
Patrick
.............................................................
Patrick van der Vorst
Founder - Value My Stuff Now Ltd.
19th Floor
Portland House
London SW1E 5RS
Tel: +44 207 869 51 37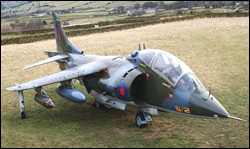 WARSTUFF.com which offers a destination for militaria dealers and collectors globally to buy and sell online, spotted the opportunity to offer a viable alternative to eBay who have in recent times come under fire for their poorly enforced policies on the sales of military antiques which are alienating dealers. Last week, the BBC News channel reported on the removal of a decommissioned Royal Air Force Harrier Jump-jet Fighter plane from sale as mysteriously it contravened their weapons policy. The jet has now been listed for sale on WARSTUFF.com.

"We're gratified Jet Art Aviation who owns the Harrier recognizes the value of what WARSTUFF is creating and we hope it finds a buyer through us. eBay's policies consistently demonstrate a lack of interest and understanding of military antiques, so we're only too pleased to offer a service that does deliver for this market" Paul McCabe, WARSTUFF's founder said in a release.

The Harrier, built in 1971, is one of only four of its kind left in the world.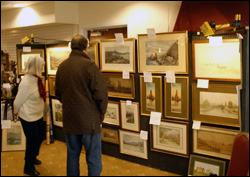 Some years ago I noticed the art market, going more towards a name, rather than the items beauty. So I set up Fine Affordable Art, specialising in the sale of affordable art for all. I pride myself on searching out good fine art, which is good for it's beauty and not just for a name and always carry a fine selection for all pockets.

I've included a link to www.afcfairs.co.uk who run fantastic Antique fairs in the South West. I am proud to regularly stand at their fairs.

An AFC fair is well worth the visit, you'll be amazed!

Best regards
Mark Edwards












If you would like to advertise in this newsletter please contact Iain Brunt on mail@antiques.co.uk