Well now that the festive season has worn off and we're all looking into 2011 as a grim year of austerity, there's actually no better time to buy antiques. Instead of buying new furniture for your property, purchasing an antique not only provides character and unique charm, but also acts an investment for the future.

Antiques.co.uk has a grand wealth of antiques supplied from a multitude of professional dealers, so you know you'll be in good hands. If you can't find what you're looking for immediately, save your search and we'll alert all of our dealers to your needs so they can upload the items that match.

What's more, we deal with trusted valuers, conservators, shippers and insurers that means you'll be looked after over the entire process of finding that perfect item, from start to finish.

Here are a few of our favourite partners this month...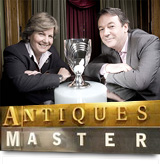 Antiques Master is back, and the search is on to find the next amateur antiques expert worthy of the title.

ARE YOU AN AMATEUR ANTIQUES AFICIONADO?
CAN YOU DISTINGUISH YOUR LALIQUE FROM YOUR VENINI?
IS YOUR ANTIQUES KNOWLEDGE PRICELESS?
If so, we want to hear from YOU!

We're looking for amateur antiques experts who have a passion, insight and knowledge to compete for the title of Antiques Master 2011 in this exciting primetime quiz for BBC TWO.
If you're 18 or over and interested in applying then please request an application form before Monday 14th February by contacting the BBC on:
Tel: 0161 244 4160
(Standard geographical charges apply and calls may be included in your telecom provider's call package. Calls from mobiles may be higher)
OR EMAILING:
antiquesmaster@bbc.co.uk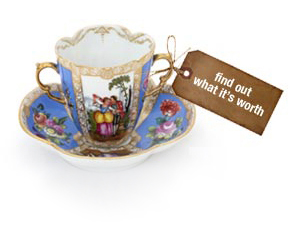 28-day free trial to the-saleroom.com's Price Guide

The best way to judge the value of your collection is by researching what prices similar items have achieved at auction. The-saleroom.com gives you instant access to where, when and at what price an item actually sold for together with its description and images.

- Unlimited online access
- Database updated daily
- Covers lots sold since the year 2000

Click here to trial the Price Guide today – with no obligation.





With John Lewis Specialist Home Insurance your policy is carefully crafted around your art and antiques.

By speaking to our qualified underwriters directly you can be certain that your home and valuables, including individual items worth over £15,000, are suitably insured. We can also arrange valuations and offer expert advice so that whatever happens, we're with you when it matters.

Call our qualified underwriters today on 0800 0408 240 to discuss your personal requirements.

Find out more >


Value My Stuff had a very busy start to the New Year, valuing on average 200 items per day. Among the January marvels valued so far, were an 18th century Northern Indian painting on cloth, depicting Radha and Krishna valued at £12,000-£18,000 and a rare Mary Tudor fine Sovereign 1553, an outstanding specimen worth £15,000-£20,000, alongside a lost painting by Lucio Fontana worth £700,000.

Valuemystuff.com counts over 40 auction houses amongst its clients who regularly tap into the expertise of the over 50 experts all of whom have worked for Sotheby's or Christie's. Why not try the service yourself to discover this easy to use, fast and reliable valuation service.

Use promotional code ACUK01 to receive 1 free valuation when you buy one credit to have an item valued.

Patrick van der Vorst
Founder - Value My Stuff Now Ltd.
19th Floor
Portland House
London SW1E 5RS
Tel: +44 207 869 51 37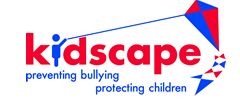 Kidscape is committed to keeping children safe from abuse. We give children the practical skills and resources necessary to keep them safe from harm.

Children like Ellie.
"This gang of girls bullied me for three years. I haven't done anything to them, but they think it is fun to call me names, not speak to me, spread nasty rumours about me and even call me at home and scream abuse down the telephone and then text me to tell me they think I'm ugly and fat. I can't understand why they are acting this way. I never did anything to them. I hate to wake up in the morning knowing that I must go in to face them. The only time I am happy is during holidays. I cry at night, but I never told mum or dad because I go to a really good school and I didn't want to disappoint them."

Kidscape sees so many young victims of acute bullying like Ellie. These vulnerable children become anxious and withdrawn and skip school to avoid bullying. In numerous cases, they self-harm and contemplate or even attempt suicide. One in 12 children are so badly bullied that it affects their education, relationships and even their prospects for jobs in later life.

The training we provide through our ZAP sessions gives children like Ellie the tools to grow in confidence and rebuild self-esteem, and their parents the support they need to be able to help their child. With a success rate over 85%, we are incredibly proud of the important and vital work that we provide.

But we can't do it alone. With your help, we could make the ZAP courses accessible to many more vulnerable children, giving them their lives back. Could you help us make this a truly happy new year by giving the gift of freedom from bullying and abuse?

if you would like to help more children like Ellie click here or visit www.kidscape.org.uk












If you would like to advertise in this newsletter please contact Iain Brunt on mail@antiques.co.uk