With over 19,000 antiques to browse through and over 500,000 viewers a month, there's no better place to buy, sell and love antiques than Antiques.co.uk!



Do you have what it takes to become Antiques Master 2010?
ARE YOU AN AMATEUR ANTIQUES AFICIONADO?
CAN YOU DISTINGUISH YOUR LALIQUE FROM YOUR VENINI?
IS YOUR ANTIQUES KNOWLEDGE PRICELESS?
If so, we want to hear from YOU!

We're looking for amateur antiques experts who have the passion, knowledge and experience to compete for the inaugural title of Antiques Master in this exciting new primetime quiz for BBC TWO.

If you're an amateur antiques expert that's 18 or over and have the experience, insight and expertise to take part then please request an application form before Friday April 16th by contacting us on:

Tel: 0161 244 4160
(Standard geographic charges apply and calls may be included in your telecom provider's call package. Calls from mobiles may be higher)
OR
Email: antiquesmaster@bbc.co.uk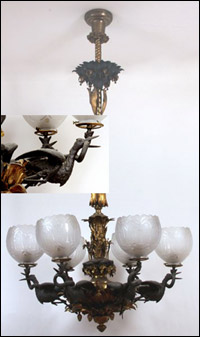 Kaminski Auctions of Beverly, Massachusetts, USA is one of the top Massachusetts auctioneers, providing period antique, fine art, paintings, furniture and estate auctions, for over two decades. Now with offices also located in Beverly Hills, California, USA.
Kaminski Auction's March IMPORTANT HISTORIC AUCTION takes place on Saturday March 27 and Sunday March 28 commencing at 11:00am EDT.

We have been commissioned to sell items from the Grant family, descendants of President Ulysses S. Grant, as well as important gas chandeliers from the White Lord House, 31 Washington Square North, Salem; fine furniture and porcelain from the descendants of Francis B. Crowninshield of Marblehead and more.

FEATURED: LOT 106 - 19th Century rare and important bronze gas chandelier having an egret and snake design, encrusted with leafs, c. 1861-1866, 55" h. x 29" diam., original condition and patina. Provenance: The White Lord House, 31 Washington Square North, Salem, MA. EST 20000~30000.

ONLINE: www.kaminskiauctions.com
EMAIL: auctions@kaminskiauctions.com
PHONE: 978-927-2223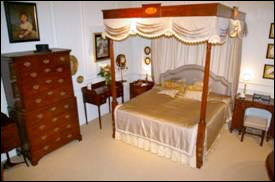 A George III 6ft wide four poster bed with mahogany turned and reeded end posts. The canopy having oval inlaid satinwood cartouches to front and sides. Original condition. Later drapes which can be changed to suit.
Width: 183cm
Length: 198cm
Height : 198cm
Serendipity Antiques is situated in the depth of beautiful rural England under the shadow of the Malvern Hills near Ledbury. Rosemary Ford has been dealing in antiques for over 40 years and welcomes clients to the unusual shop behind her 16th century Elizabethan manor house and next to the small parish church of Preston dating back to Anglo Saxon times.

Serendipity specialises in original, yet affordable, high quality antique furniture for the discerning and always has a large selection of 18th and 19th century extending dining tables, set of chairs and four poster beds among the hundreds of lovely pieces of traditional furniture always in stock.

Serendipity have always worked with the interior decoration business and try to find the right furniture new or old to complement interior designer's schemes. Whether you are living in a cottage or castle, we can help furnish your home to perfection.

Phone: 0044 1531660245
Mobile: 0044 7711245004
Mobile: 0044 7787568923
www.serendipity-antiques.co.uk
sales@serendipity-antiques.co.uk



valuemystuffnow was founded in September 2009 by Patrick van der Vorst, ex Director at Sotheby's, with the intention of making art valuing and expertise as approachable as possible for the widest possible audience. Referred to by the mail on Sunday as the 'Antiques Roadshow Online' and voted last weekend by the Sunday Telegraph as one of the Top 20 Money Saving websites, the company has grown to over 5.000 customers already with nearly 10.000 valuations done.

The valuemystuffnow.com service offers for £3.99 valuations within 48 hours to clients who upload photographs of their items. The team of 28 experts, all of whom have worked for Sotheby's, Christie's or any other leading auction houses, write a report back to the client not only providing them with a value, but also with some historical and interesting background on the piece.

ValueMyStuffNow.com
The Only Online Experts who provide you with a Professional Valuation of your Art & Antiques... Within 48 Hours!
Value My Stuff Now Ltd.
19th Floor Portland House London SW1E 5RS
Tel: +44 207 869 51 37
Fax: +44 207 869 8001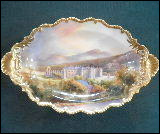 Hi, It's Annie and Mick from A & M Antiques here. We are passionate Royal Worcester collectors first and foremost and would love to be able to share that passion with you. We have pieces covering a wide range of Artists and Subjects all of which are signed and in great condition(any restorations/damage listed in item description)

Visit our website and be transported into a time when quality of workmanship rather than profit ruled supreme. Where artists like John, Harry and James Stinton, Harry Davis, Charlie Baldwyn, George Johnson and so many others transformed the decorating of porcelain into Fine Art. We also offer free postage on all piece worldwide and guarantee a fast and safe service in uniting you with your new treasure. So please come in, peruse our beautiful pieces and even if you don't find something you can't live without we hope you enjoy the experience.

Website: www.aandmantiques.com
Contact details:
A & M Antiques Shop
207 Sydney Antiques Centre, 551 South Dowling Street, Surrey Hill, 2021 NSW Australia
Phone: +61 (0)408979143



At the Hidden TV Company (part of Mansers Antiques) we provide the solution to neatly housing your flat screen TV's and related equipment into beautifully hand crafted cabinets and ottomans. We offer a bespoke service based on decades of experience in antiques and home interiors. Our cabinets are made in all woods and finishes including a decorative hand painted finish. Ottomans can be supplied in calico or customers own fabric.

www.thehiddentvcompany.com and www.theantiquedealers.com
Mansers Antiques
Coleham Head
Shrewsbury
Shropshire
SY3 7BJ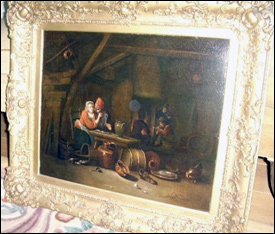 TAVERN INTERIOR BY FOLLOWER OF TENIERS THE YOUNGER 1640-1670 ORIGINALLY BELONGED TO THE DECEASED ESTATE OF EDWARD WARNER LEICESTERSHIRE'S MASTER OF THE FAMOUS 'QUORN HUNT'.

This is a unique chance to acquire an early genre themed mid 17th.century oil on canvas in the baroque style, depicting peasants smoking and drinking in a tavern or ale house.
The actual canvas size is 22 Inches x 18 Inches and overall measurements to include the frame are 30 Inches x 36 Inches.
The brief history known is that the painting was sold back in 1919 by Warner Shepherd and Wade Auctioneers upon the death of Edward Warner huntmaster back in 1911.
There was a country house sale held on site at the famous Quorn Hall, Leicestershire's famous hunt headquarters for over 300 years.
All the house contents were sold off and I have the original catalogue of sale dated Tuesday 2nd, 3rd, and 4th December 1919.
The painting was incorrectly listed as Rubens school as it had a label on the front of the frame, which might have originally belonged to another work of art.
The frame is of the correct period being approx.1630-1670, and is in good solid condition. The painting itself has been wax relined and was probably cleaned some years ago.
There are no signs of any previous repairs and the surface colours look sharp and fairly bright.
There is no obvious signature or date visible.
The execution of the painting is extremely similar to works by artist Teniers The Younger who was born in 1610, but cannot be attributed to him in the absence of any signature or initials.
It is believed that this painting was sold last at the NEC in Birmingham back in the eighties for a considerable sum.
Today such a painting could cost a small fortune if it were ever proven to be by one of the old masters, but in the absence of clear identification of the artist, it is to be offered at a sensible price reflecting all the circumstances.
Similar style paintings do not seem to be available in the general market place today and only appear in museums or private collections.



Did you know that Invaluable is the world's largest auction price results database? Join today and receive access to over 4 million auction price results – absolutely FREE! With your free account, you can also bid live online at the finest art and estate auctions in the UK and around the globe – all from the comfort of your own home!
Build your collection today with Invaluable Live!, the world's premier live auction research and bidding destination.









If you would like to advertise in this newsletter please contact Iain Brunt on mail@antiques.co.uk