Happy New Year! The weather may be sub-zero right now, but with Antiques.co.uk there's no need for you to brave the cold outside hunting for that bargain item. Why not browse our dazzling array of fabulous antiques and collectables from the toasty comfort of your own home?

We've teamed up with some of our favourite sellers on Antiques.co.uk to bring you a few items you might like below, but remember, there's all this, and more, on Antiques.co.uk!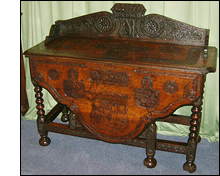 Gate leg table – Sir Thomas Holte - 1633
Van de Ven Antique dealers

For sale: a unique gate leg table with origin, Sir Thomas Holte, Aston Hall, Aston, Birmingham, England.
The Jacobean table is dated 1633 and completely made of walnut, except the stand is made of oak wood. The table is sculpted with letters and coat of arms. On the top the letters "SIR THOMAS HOLTE - EXALTAVIT.HUMILES" are sculpted. EXALTAVIT.HUMILES means: he has exalted the humble. On the front sheet "ANNO 1633 Dom" and "FUIMUS" are sculpted. "FUIMUS" is often interpreted as "we have endured" or "we have always been", proclaiming the long history of the user. Besides, on both the top and the front sheet some coats of arms which are sculpted. The blind back sheet and turning leg are missing. The oak wood stand is 17th century, but perhaps it hasn't been original for this table.

For some detailed pictures, more information and/or the price please contact us by e-mail info@vandeven-antiquairs.com or through our website www.vandeven-antiquairs.com On our website www.vandeven-antiquairs.com you will find 100 plus items of antique furniture, paintings and small antiques.

Van de Ven Antique dealers, Molenstraat 49, 2387 Baarle-Hertog, Belgium.



Typically the auctioneer and the dealer are depicted as adversaries; in fact each relies upon the other for a good part of their business. As the market for antiques has polarised, the public perception is formed by press coverage that concentrates on blockbusters like Damien Hirst's 2008 sale which realised in excess of $200 million and the sale of a Raphael sketch in December 2009 for £26 million

In reality, many auctioneers and antique dealers have found trading conditions difficult in the last couple of years. At Chorley's we feel that it is important for auctioneers and dealers to promote a united front as an industry. On this basis, Simon Chorley now uses his monthly slot on BBC Radio Gloucestershire to publicise the sale dates of other auctioneers within the county.

Simon Chorley. Chorley's, Prinknash Abbey Park, Gloucestershire, GL4 8EX.
www.simonchorley.com
Tel: 01452 344499.
E-mail: enquiries@simonchorley.com




The single destination for all your Fine Art requirements Serving dealers, collectors & interior designers; we have a range of paintings which are framed, restored and ready to go as well as those which are as yet untouched. See our website for more detail and some of the paintings on offer, or contact us without obligation by email or telephone. Commission sales & global sourcing agents We act on behalf of individual & corporate clients; sourcing through private treaty, the fine art trade and at auction. Paintings bought and sold, framing, restoration, interiors consultation and fine art lectures.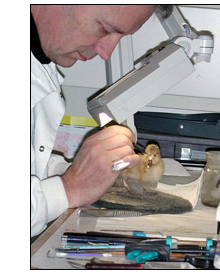 Simon Moore Conserving a Duckling
Taxidermy looking past its best? Natural history specimens deteriorated? Geology specimens discoloured, flaking or distintegrating? Herbarium specimens mouldy?
All forms of Natural Science specimens conserved at competitive rates by experienced and qualified conservators Simon Moore ACR and Nigel Larkin. All forms of natural sciences specimen conserved excepting 'big game' unless these can be treated in situ. Condition assessments and remedial work carried out on any deteriorated/ing zoological, botanical and geological specimens and collections. Fluid-preserved specimens are a speciality. Preventive work and collection storage and pest control advice given. Microscopy work, slide preparation and conservation also undertaken. Training given in any of the above. Identification service provided.
Contact Simon Moore on 01256 892335 or via the website address: www.natural-history-conservation.com




A unique website dedicated to offering professional expert valuations of antiques, art and collectables, is now in 3rd month of trading, and has already completed over 6,000 valuations. The brainchild of Patrick van der Vorst, ex Sotheby's Director and Head of Furniture Department, the site plans to make valuations accessible to all inexpensively and without conflict of interest.
The website has a team of specialists drawn from Sotheby's, Christie's and other leading auction houses with all valuations guaranteed within 48 hours or your money back!
As ValueMyStuffNow does not buy or sell any items, its valuation process can be completely unbiased and independent. The process is very easy; upload a photo, choose a category, describe the item, and submit.
Prices range from £3.99 to have one item valued or £9.99 for three or you can buy 10 credits for £29.99.

You could find out how much your items are worth and who knows, there might be a pleasant surprise in store?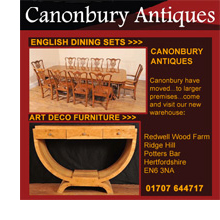 We have just moved to larger premises in Hertfordshire right off the M25 near the A1 junction – 25 minutes north of London. Come and visit us for one of the largest selections of English dining sets on the web!

Whether it's formal or farmhouse set, we have multiple chair and table combinations; Regency Pedestal, Refectory Table, Victorian Extender, William IV with Chippendale, George II, Queen Anne, Windsor, Ladderback and Spindleback chairs.

Plus art deco furniture, bookcases, bronzes, desks, porcelain, architectural items and everything in between…

Canonbury have moved... to larger premises... come and visit our new warehouse: Redwell Wood Farm, Ridge Hill, Potters Bar, Hertfordshire EN6 3NA



Acrylic on canvas 24 inches x 30 The Thames and Jubilee gardens signed and dated November 2009 - £1,850
A sneak preview of what is to come in Guy Warner's first London exhibition in 2009.
Guy Warner was born in Birmingham, England in 1985. His first exhibition, a series of large-scale landscapes of the Canadian Rockies, was held at the Rockface Gallery in Birmingham whilst he was still at school. The entire exhibition was purchased by DFLP, a city centre law firm, for their new premises near St Paul's Square, Birmingham.
For further details email mail@antiques.co.uk or telephone 0845 260 2260



A large pair of 20th Century Gothic arm chairs £850-00
Pairs antiques and fine arts limited has an ever-changing stock of antiques in pairs www.pairsantiques.co.uk.
We specialize in searching for that ideal pair you have been looking for.
Email iain@pairsantiques.co.uk
Telephone 0845 260 2260



A rare and superb stained glass window of polo player's
88cms diameter. English 20th century.
£1,200-00

Further details www.poloantiques.com

Email mail@poloantiques.com
Telephone 0779 868 4694



Sellers!
Keep up to date with what buyers are looking for by visiting our wanted items section. There are over 130 requests for specific items and new ones are added daily.



New Year Offer!
If you can introduce friends and colleagues to sell their antiques on www.antiques.co.uk then for every person you introduce we will give you an extra one month free on your account with us or £10 cash back!



If you would like to advertise in this newsletter please contact Iain Brunt on mail@antiques.co.uk