Welcome to the Antiques.co.uk newsletter, from Iain Brunt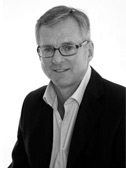 This week we celebrate National Antiques Week, 23 – 30 November, with a special newsletter featuring some of our dealers and an insight into what they are doing to promote the 'Antiques are Green' theme.

National Antiques Week was declared 'open' on Monday 23rd November by Councilor John Tanner, who is Oxford City's Executive Board Member for a Cleaner, Greener City. Using a pair of antique sewing scissors he cut a green ribbon to start the events at Antiques on High antiques centre in Oxford.

Across the UK dealers, auction houses and antique lovers will be joining forces to give our industry a big push in the right direction with a range of events and incentives.
Here are just a few Antiques.co.uk dealers that are supporting the initiative;


Pairs Antiques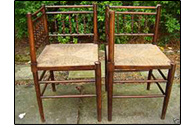 Online service pairsantiques.co.uk is a unique antiques service that finds those beautiful twin pieces for your homes. Any interior designer or lover of antique pairs will know how hard it is to find the troublesome twosomes. Pairs Antiques do all the hard work for you and make sure they find the ideal pairs for your latest project such as this rare pair of 19th century caned corner chairs priced at £425.
Please visit www.pairsantiques.co.uk or call 0845 260 2260 with your requirements and they will do the hunting for you.


Polo Antiques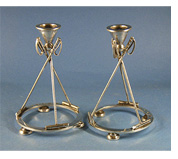 Only specialising in items relating to the Royal and magnificent game of Polo, this website is the first place to look when trying to find that perfect gift for your favourite polo player. With items from £50 - £10,000 www.poloantiques.com has a range of memorabilia such as this incredibly rare French silver 1910 Paris Polo Trophy by Risler and Carre. The caster was awarded in the 1910 Paris polo competition Polo de Paris Prix du Chaponniat. Inscribed Baron de Rothschild, Duc du Doudeauville, S Balding, and A Balding it stands at 19 cms high and is priced at £925.
Also stocking Polo art and sculptures visit www.poloantiques.com for your perfect Polo gift. Telephone 0845 260 2260


Value My Stuff Now

The first website dedicated to offering professional expert valuations of antiques, art and collectables, is now in its 9th week of trading, and has already completed over 4.500 valuations.
The brainchild of Patrick van der Vorst, ex Sotheby's Director and Head of Furniture Department, the site plans to make valuations accessible to all inexpensively and without conflict of interest.
The website has a team of specialists drawn from Sotheby's, Christie's and other leading auction houses with all valuations guaranteed within 48 hours or your money back! As ValueMyStuffNow does not buy or sell any items, its valuation process can be completely unbiased and independent. The process is very easy; upload a photo, choose a category, describe the item, and submit. Prices range from £3.99 to have one item valued or £9.99 for three or you can buy 10 credits for £29.99.


Charles Daggett Gallery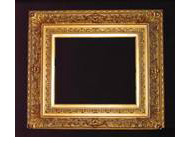 As one of the best kept secrets in the art market, this magnificent shop houses a treasure trove of antique frames in the heart of central London. The gallery holds a stock of over five hundred frames including this 19th century gilded Barbizon frame by Brugman S Gravenhage seen on the right priced at £290. With restoration and finding services available, the gallery offers untold delights for private buyers, interior designers and those seeking that special something.
You can find Charles Daggett Gallery at 153 Portobello Road London W11.
Please call 0207 220 2248 for an appointment.


Antique Chandeliers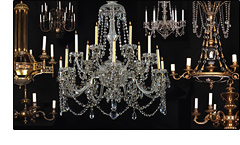 Antique Chandeliers Ltd support National Antiques Week and the 'Antiques are Green' campaign. Providing antique lighting to private buyers, interior designers and the antiques trade they have over 15 years experience of working in this field. They also have a huge choice of lighting in glass and crystal, some by known makers such as Baccarat and Osler, together with Flemish and other styles of antique lighting in various materials and finishes.
This week, to celebrate National Antiques Week they are offering free advice on antique chandeliers and lighting so give them a call on 01342 717836 or visit www.antiquechandeliers.co.uk.


Chorley's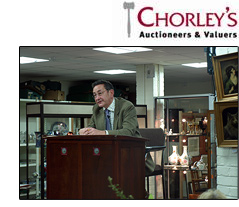 Chorley's support National Antiques Week and with over 80 years experience in the auction of fine antiques Simon Chorley recognises the need for support of the 'Antiques are Green' campaign. He explains; "We wholeheartedly support the efforts of National Antiques Week in raising the profile of the Arts and Antiques industry. We have certainly seen signs of recovery recently and we are pleased to say that the next generation, adults within their twenties and thirties, are embracing antiques and second hand vintage items. This is the key to supporting the 'Antiques are Green' campaign. We like to say that brown is the new green and we'll continue to promote this initiative.
Simon Chorley will be promoting the 'Antiques are Green' campaign and the latest auctions you can attend on his BBC Radio Gloucestershire show from the beginning of December.

For more information visit www.simonchorley.com or call 01452 344499


Support for Cumbrian Dealers
This week our hearts go out to the proportion of the Antiques trade, in the North West of England, whose businesses have been struck by the terrible floods in Cumbria and especially Cockermouth. Due to the river bursting its banks many antiques shops in the town centre have been flooded and those that escaped the flooding still lie unopened due to transport and roads being closed. Cockermouth Auctioneers Mitchells, based on higher grounds, were not damaged and they will be going ahead with their weekly auctions, with the next sale on 26th November, although there may be some difficulty transporting items to and from the auction house. We send all those Antiques shops involved our thoughts and hope they recover as quickly as is possible.

National Antique Week News Round-up
Bourbon Hanby Arcade Toasts National Antiques Week: Ian Towning, expert on ITV's David Dickinsons Real Deal and owner of The Bourbon Hanby Arcade in London, is supporting National Antiques Week by giving away a bottle of good quality wine with every purchase from their shop in the renowned Arcade, on the corner of Kings Road and Sydney Street, Chelsea.

Christmas in Camden: To participate in National Antiques Week Camden Passage is having a Dickensian themed Christmas on Saturday 28th November. Local traders will be encouraged to dress up and decorate their shops and stalls reflecting this style. Entertainment will be provided by The Billingsgate Brainstormers Travelling Theatre Troupe, local choirs, characters on stilts - and artfully dodging ones. Festivities start at 2pm with Victorian themed entertainment and at 5.00 Father Christmas will turn on the lights and the winner of the winning Dickensian themed window will be announced.

To read more about these headlines please visit www.antiquesnews.co.uk