Welcome to the Antiques.co.uk newsletter, from Iain Brunt
We have had an interesting summer here at Antiques.co.uk and as the autumn draws in we are planning to keep ourselves warm with lots of events and rallying of support.

Our last newsletter bought another 200 signatures to the Antiques.co.uk petition to save our industry. We also had lots of help from supporters who contacted us about handing out flyers in their shops or regions. So much so that we've just had to get another 30,000 flyers printed. If you would like to help our cause by putting flyers in your Antiques shop or handing them out at local events please contact iain@antiques.co.uk or call 0845 2602260 and we will get some in the post to you.

As we reported in last month's newsletter, the first ever National Antiques Week is on its way on 23 - 30 November 2009.

Antiques News is calling for independent shops and antique lovers all around the UK to hold events in their regions. The theme this year will be echoing Nigel Worboys' "Antiques are Green" campaign and the publication is encouraging antiques dealers and lovers to shout it from the rooftops. In celebration of the campaign, we will be doing a special National Antiques Week newsletter and we would love to hear what you are planning to do so we can include it in our November special. Send your ideas and your events to mail@antiques.co.uk

Decorex 2009
For all interior designers and lovers of antiques one date to put in the diary is Decorex 2009 on 27 - 30 September 2009.

Held in the grounds of Christopher Wren designed Royal Chelsea Hospital it is a great place to gain inspiration for what to do with your latest antique purchase as well as a host of talks from interior design professionals over the four days.

For more information visit www.decorex.com

The Greatest Flea Market Find Found Again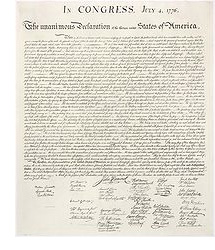 It was, wrote Chicago Now, website of the Chicago Tribune, 'The greatest flea market find'. 'A painting bought for $4 contains a million-dollar document' was the headline on Art Info, website for the respected New York magazine Art & Auction. Five online newspapers, not to mention more than 2000 blogs, carried the story last week of a remarkable discovery - an original 1776 Dunlap printing of the Declaration of Independence found in the back of a picture bought for $4 at a market in Lancaster County, Pennsylvania. The document was one of just 24 known to exist. A Sotheby's executive, who called it "the most important single printed page in the world, in the most spectacularly beautiful condition," believed it could fetch between $800,000 and $1.2m when sold 'next June'.

However, didn't all this sound just a little familiar? Momentary wonder quickly turned to scepticism at the similarity of this story, posted on August 31, 2009 and a tale often recounted when talk turns to legendary finds of recent decades. In fact, those who bothered to check the original source of the story will have found the pages of The Philadelphia Inquirer. The full article included the lines: "To mark the 180th anniversary of its founding, The Inquirer has reprinted an article from its archives every Monday for 18 weeks. Today's offering was originally published April 3, 1991."

Lightning had not struck twice. For those who do not know how the story ends, the flea market discovery (there are many in the trade who question the convenience of the story) did indeed appear for sale at Sotheby's - in June 1991 - when it sold for $2.42m!

Antiques News Round-up
2010 Trial for Antiquarian Book Dealer: Eccentric antique book dealer, Raymond Scott, who faces eight charges relating to the theft of a priceless Shakespeare first folio that went missing form Durham University Library more than ten years ago.

Museums Acquire Exquisite Viking Hoard: The most important Viking hoard found in Britain since 1840 by metal detector David Whelan, 63 and his son Andrew, 37, in a field in North Yorkshire in January 2007, has been jointly acquired by The British Museum and the York Museums.

BBC Suspends 'Sun, Sea and Bargain Hunting': Concerned BBC chiefs have pulled the antiques programme "Sun, Sea and Bargain Hunting" following revelations that a camera man posed as a member of the public to buy an item that one competitor was struggling to sell.

To read more about these headlines please visit www.antiquesnews.co.uk

Featured Item of the Month
This month's Featured Item is a lithographic print signed F Vio 99 and numbered 30/34 unframed. To celebrate the anniversary of polo 1869-1999.