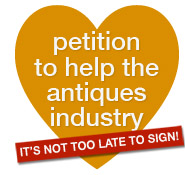 As our campaign to persuade the government to provide more support to the Fine Art and Antiques industry gains more signatures, we are now being asked exactly how we think the government could facilitate this support. This month Iain Michael Brunt of Antiques.co.uk detailed in Antiques Trade Gazette exactly what he hopes to achieve in a seven point manifesto he will take to the Chancellor of the Exchequer, Rt Hon Alistair Darling MP.

This manifesto shows the government exactly what resources the antiques trade needs to boost its place in the economy and continue to survive in the face of recession. It includes such remedies as reduced small business tax, support for heritage industries and marketing for the industry within tourism and green business initiatives. Iain Michael Brunt explains, "Support is gathering for the campaign via Antiques.co.uk but now we need to call all dealers, antique centers and the general public to arms to show their support by putting petition fliers in their shops and offices. We need many more signatures and your help is essential. Please help the campaign either by emailing your address to mail@antiques.co.uk or call 0845 260 2 260 Mon-Fri between 9am – 5pm. Together we can gather the support we need to give our industry the voice it deserves." Join the many leaders and supporters of our campaign and sign the petition today. Let's make sure we can conserve our industry.

Increase your sales at the touch of a button

We want to make sure that our registered dealers are getting the most visitors possible so we are offering our services to any dealer who would like us to update their items on Antiques.co.uk automatically. We can make sure that we transfer all of the new antiques you add to your website straight to Antiques.co.uk at the touch of a button. Not only will this give your potential customers more choice but it will also save you time by allowing you to update your stock from one source.

We have 500,000 UK and international visitors a month and for just 35p a day - less than it costs to make a cup of tea - you could have access to antiques buyers on both sides of the Atlantic. So make sure you email us at mail@antiques.co.uk for more information.

We currently have buyers looking for all sorts of items so please check our Wanted section to see if you've got something they'd love to buy.

Sign up today to list unlimited items for just 35p a day and we will send the first ten registrations a complimentary copy of 'Sleuth: The Amazing Quest for Lost Art Treasures' by Antiques Road Show and Fine Art expert Philip Mould.

Nigel Worboys tells us why 'Antiques Are Green'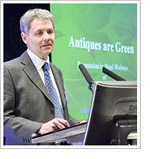 Earlier this month antique dealer Nigel Worboys launched his 'Antiques Are Green' campaign to promote antiques as the oldest recycling trade around. With the government now funding green businesses and more people following sustainable initiatives, Nigel talks to Antiques.co.uk about what we can all do to make sure that we are support the 'Antiques Are Green' campaign.

Nigel explains, "The customer is now feeling more comfortable about the purchase in the knowledge that 'antiques are green'. They can justify their purchase and they now have that feel-good factor on top. Our products are sustainable, re-usable and re-saleable. We must all work to make people aware that antiques are green."

You can read the full article along with how you can get involved in the campaign on Antiques.co.uk

New Interior Designers' Finder Service
Antiques.co.uk is the perfect place to find all the antiques, art and interior gems you are looking for. With a plethora of beautiful one off pieces and sellers from all over the world we can provide a unique look book for those inspirational purchases.

This month we are launching a new service for all of our interior design customers. Our Wanted section allows buyers to tell our registered dealers exactly what they are looking for. So if you can't find that vintage delight when searching on antiques.co.uk, just click the 'save this search' link and you will be sent an email update every time a dealer adds new items that match your criteria.

Featured Item of the Month
This month's Featured Item is a lovely painting by Russian/American artist David Burliuk (1882-1967). It's watercolour and pencil on paper, measures 35 x 51.5cms and sits in the original frame.
Click here for more information