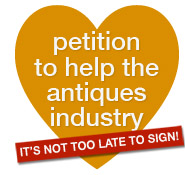 We'd like to take this opportunity to say 'thank you' to all supporters who have signed our petition to get the government to support the fine art and antiques industry. We are gaining ground every day and have attracted the attention of both the press and key figures in the industry. Natasha Goodwin, Deputy Editor of BBC Homes & Antiques has pledged her support by featuring our campaign in its August edition and Rupert Thomas, Editor of The World of Interiors has also signed our petition. We have also had a huge amount of support from Sarah Percy-Davis, Chief Executive of LAPADA, the London and Provincial Antique Dealers Association.

Here are a few of the wonderful comments that have been left by our supporters;


"Congratulations on this impressive initiative. Business rates are crippling for many of our members and contributing to shop closures and the cloning of the high street. We give this campaign our full support!"
Sarah Percy-Davis, Chief Executive, LAPADA

"It's good to see the art and antiques industry leading the way yet again."
Ivan Macquisten, Editor, Antiques Trade Gazette

"Too many of our high streets are becoming identikit streets with endless bland chain stores. Antiques shops provide a welcome injection of character and difference and of course, the items they sell are truly 'green'. It's far better to reuse than to recycle."
Natasha Goodwin, Deputy Editor, BBC Homes & Antiques

"We must preserve are heritage - old and eclectic items give a certain weight and grittiness to interiors old and new."
Kitty Edwards-Jones, Member – British Interior Design Association



Book of the Month
Philip Mould is well known for his appearances on BBC's Antiques Roadshow but here he turns his hand to a book that uncovers the high octane world of profiteering through art and antiques with dramatic twists of fate. Billed as CSI meets Time Team meets The Antiques Roadshow, in Sleuth, we encounter the fascinating dealers, experts, auctioneers and restorers who risk fortunes and reputations to turn overlooked artworks into coveted treasures. Sleuth is laced with dramas such as Gainsborough's earliest picture emerging in a Los Angeles saleroom giving the author just three days to find the missing facts and decide what to pay. We also encounter the most powerful man in the art establishment, with the influence to elevate a copy into a priceless original, being asked to look at a 'fake' Rembrandt self-portrait which, if he says yes, turns a £5,000 picture turns into £5 million masterpiece. He also tells the story of an auctioneer who notices, from the upper storey of a bus, that Damien Hirst's restaurant is being dismantled and swoops in to sell the fixtures and fittings for £13 million. Sleuth is a series of stories which not only reveals the extraordinary culture of detection but the people behind it. Paintings and their discovery become a way into the minds, preoccupations and professions of a raft of influential figures beyond the commercial and museum facade - men and women who have shaped their lives in pursuit of truth and profit through art.

"This book might well be sub-titled 'Inspector Mould Strikes Again'. Philip Mould doesn't just discover art- he makes the rest of us share the joy and excitement of it"
Michael Aspel

Record Breaking Record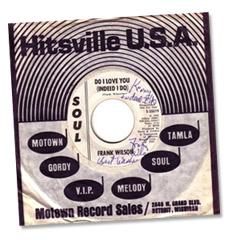 FRANK Wilson's Do I Love You (Indeed I Do) is generally ranked by enthusiasts of Soul music as a very good rather than a great single, but in the collecting community it has acquired legendary status. Only two copies of the original pressing appear to have survived.
The story goes that Wilson, then a moderately successful Motown producer, cut the disc in late 1965 with a date on the Motown subsidiary label Soul of December 23. But he was to incur the wrath of Motown head Berry Gordy who put a rapid end to a promising performing career, demanding that the disc be destroyed. The existence of Soul disc number 35019 was unknown until an early researcher at the Motown archive in Los Angeles unearthed a copy in 1977 and played it to the legendary Northern Soul bootlegger Simon Soussan. With his ear for a good tune and marketing know-how, he immediately sent acetates to the UK under the guise of Eddie Foster. It became Northern's biggest ever find and an instant anthem when it was first heard on the soul music scene in England.
After much debate as to its real identity, Frank Wilson – who was to achieve hits with The Supremes and The Four Tops among others – was later given credit for the song that crops up on dozens of compilations, has a million hits on YouTube and was recently used in an advert for Kentucky Fried Chicken. This particular seven-inch vinyl single, found in Los Angeles, has a fabled collecting history and remains in a private collection in Lancashire.
However the other known copy, recovered a decade ago from a worker at the record label's pressing plant ARP in Detroit, sold via an online auction last month organised by record dealer John Manship of www.raresoulman.co.uk in Leicestershire. The vendor was Kenny Burrell, a DJ and record collector from Fife who bought it for $22,000 from a Canadian record dealer, shortly after its discovery in 1997. Most collectors agree that the disc was significantly devalued when the erstwhile owner asked Frank Wilson to personally inscribe his copy To Kenny… in blue felt tip on the label a few years ago. But it proved a solid investment for Mr Burrell. When the auction finally closed on April 29, bidding had reached £25,742 – not as much as some had predicted but enough to confirm the status of Do I Love You (Indeed I Do) as the world's most expensive single.

Featured Item of the Month
This month's Featured Item is A Still Life of Fish and Lobster By Alexander Dalziel, Snr (1781-1832) Oil on canvas, size 25" x 30" Signed and dated 1827 Also inscribed verso, with 'Newcastle' added.

Click here for more information