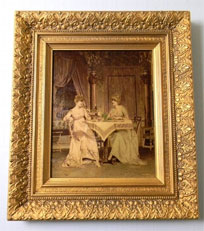 "If a picture paints a thousand words then why can't I paint you?" Corny, yes? Well as it happens we're not really talking paintings today, but those beautiful surrounding parts, the bit player in a much bigger picture, known as the frame. You may not always pay much attention to them, however, they always finish a painting or picture off rather well and without them a picture wouldn't really say very much at all. They may seem little more than the decorative edging surrounding a much more exciting scene within, but they make all the difference.

It is much easier to frame a picture than it is to frame a painting, especially those paintings where the picture on view extends to the very edge of the canvas. This is known as gallery-wrap. A poster or a picture is a much easier proposition as it can be snipped nicely to fit the frame. You couldn't quite do that with a Rembrandt.

Picture frames have mostly been made of wood and still are, however many smaller frames are now made of silver, plastics and bronze. Some older frames are initially made from wood and then covered in a type of plaster that's been moulded and gilded to fit. Picture frames can do all sorts of things and they can come in all shapes and sizes. But let's not get too technical here. All you need know is that without a frame your picture, print or painting isn't that exciting. Its needs that finishing off, it needs to be corralled in by a decorative frame captured at the centre of a wooden edging.

Of course it isn't just pictures, prints and paintings that are framed, mirrors have them too and in earlier blogs we have seen some of the most exquisite frames, none more so than the 19th century antique Victorian gilt wood and gesso frame wall mirror overmantle. Although there are chips and knocks to the initial frame it still has a particular charm and is delicately patterned all through the length of the frame with leaves and flowers.

There is a particularly mysterious and ghostly painting with the most magnificent frame on www.antiques.co.uk with two ladies sitting for tea; the frame is thick, gold and ornate. They're indoors; perhaps in the bedroom, they look happy. There is always a certain eeriness to a picture, print or painting of something that old, more so with pictures, people who seem frozen in time, what were they sharing, why were they smiling? The frame is gilt and seems to be have been an ideal choice to frame this captivating scene.

Finally, we have the most magnificent frame surrounding a military portrait of a grenadier guard in red tunic and medals. This fine painting comes in its original decorative plaster gilt frame. It's from the beginning of the century and it is likely that the soldier served in the Boer War and the First World War if we are to take note from his medals.

Frames can be quite exquisite and the further back we go the more elaborate they become. Mirror frames can be equally beautiful and they certainly can transform a room. A picture can capture a million different scenes or moods but the frame will hold it together for an eternity.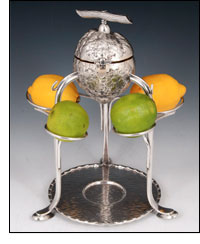 Hampton Antiques are predominantly known as Specialists in Antique Boxes. We exhibit all over the country at renowned antiques fairs across the UK. We feel it's vital to move with the times: we like to excite the eye and think out of the box to encourage younger antiques collectors and buyers, as well as new customers who may not have considered buying antiques before.
A particular item we have recently purchased represents unique design at its best, has a contemporary look, and adds a splash of colour. Who would have thought it would be Victorian! It's made by Hukin & Heath who were the favoured makers for the wonderful designs of Christopher Dresser. If you want to learn more about your antiques, further a collection or are looking to buy something totally unique, then our advice is to visit one of the many antique exhibitions across the country. Above all, you should like what you buy. If you're unable to make a visit, have a browse through the antiques.co.uk website and remember this famous quote:
"A thing is worth what it can do for you, not what you choose to pay for it"
- John Ruskin
WIN 6 MONTHS FREE SUBSCRIPTION TO ANTIQUES.CO.UK
For your chance to win 6 months free subscription to Antiques.co.uk, a £50 duty-free voucher to spend in London City Airport, or a 5% discount off any artwork on display at London City Airport, all you have to do is give Joseph Paxton's Sight Hound in this sculpture a new name!

Entries must be made via email to mail@antiques.co.uk. A winning entry will be selected on February 14th 2014.
The winner's name will be published in the newsletter following the closing date.
Celebrating The Horse in Art
Iain Brunt's ongoing display of sculpture around Britain has included Judy Boyt's Frog Ball now situated in Henley-on-Thames town centre by kind permission of the Mayor of Henley.
To celebrate this sculpture he is helping with the with the "I found horses" art exhibition, organised by the marvellous Emile Faurie Foundation - a unique collaboration of schools, riding establishments and fundraisers whose aim is to help as many children as possible experience the joys and benefits of horsemanship. He hopes that you will be able to attend and looks forward to welcoming you there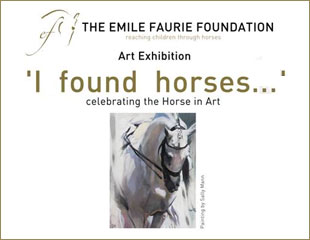 The Old Fire Station Gallery
Market Square
Henley-on-Thames
R49 2AQ
7th - 13th November
(Open all days inc Sat & Sun)
10am - 5pm

A stunning collection of Art and Sculptures by various Equestrian Artists

We hope you enjoy it. Any questions please call Iain on +44 (0)2071 934 353