029. rare irish silver dish ring 19th century
An Exquisite Irish Silver Table Dish Ring of traditional form and unusually large size, complete with original glass liner, last quarter of the Nineteenth Century.
The circular pierced body depicting figures in landscape.
Marks: This piece is unmarked.
Condition: Perfect with no imperfections, liner is also perfect. Both cartouches are vacant.
Height: 4.25" (11cm). Diam: (base) 9.25" (23.5cm).
IRISH DISH RINGS (sometimes erroneously referred to as Potatoe Rings) were first made in Dublin Ireland between about 1780 and 1808, were originally of silver and highly ornamented. They were usually elliptical in outline and wider in each dimension below than above. The largest know examples were up to ten inches in diam and up to four inched in height. Use was made of both piercing and repousse work to obtain the highest decorative effects, this style of decoration was necessary to help the heat escape from hot table dishes through the piercing. This is a stunning example in wonderful condition.
Price: SOLD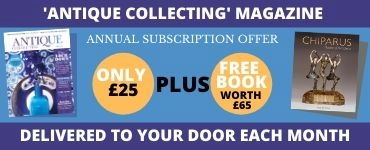 Patrick Howard Antiques Dublin
Dealer from Dublin Ireland selling mainly 19th Century Antiques at surprisingly affordable prices, to include Fine Furniture, Ormolu & Bronze Decorative Arts. We frequently offer Pairs of superb antique Lamps. DEALER TO DEALER: Trade discounts vary on listed items. We will always do the very best we can to help out a fellow Dealer. Shipping from Ireland is easy and currently free. FREE SHIPPING: Currently we are offering FREE SHIPPING TO U.S.A. Canada Australia & Europe, excludes Furniture. We only ship to these destinations at any time.
Other antiques available from patrick howard antiques dublin